What It Takes to Be CEO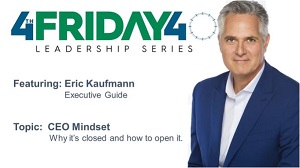 What It Takes to Be CEO
This video is only available to members; join GBA today to watch it.
What does it take to get the promotion you deserve and what does it take to be the CEO? Are you hard working and creative and looking for more senior roles? Or, are there others in your firm you want to promote, but can't bring yourself to do so?
Discover firsthand the six behaviors that keep you stuck, and how to get unstuck.
In this webinar presented by Eric Kaufmann, you will learn about how to:
Manage your emotions for executive presence
Serve your Ecosystem instead of your Egosystem
Honor and value politicking
Access cross-functional mindset
Honestly evaluate your competencies
Promote others to amplify your leadership power. (41 minutes)