Sponsor a Conference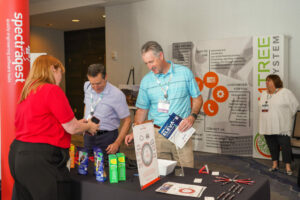 Maximize Your Company's Brand Recognition! 
Reinforce Your Reputation as an Industry Leader
      SPONSORSHIPS DETAILS : Information will be available January 2024
The Geoprofessional Business Association's sponsorships will help your company reach its goals by providing premium visibility.
Connect with senior-level industry leaders from North America's top geoprofessional firms at our upcoming Spring Conference on April 17-20, 204 in Anaheim, CA at the JW Marriott.
Our Spring C conference, though generally smaller than other affiliate organizations, provides you with the opportunity to easily meet prospective new and current clients during the many break times between sessions or during the scheduled meals and signature receptions taking place over the course of this two-and-a-half day event.
Consider GBA's offerings or let us create a customized package that will help you meet your company's specific goals!
SPONSORSHIP OPPORTUNITIES
2024 GBA Spring Conference – April 17-20,2024
CHAMPION EXCELLENCE
JW Marriott – Anaheim, CA
Conference Exhibit/Sponsorship – $5,000:
Conference attendance for one sponsor company representative (value $1,095)
Discounted registration fee for additional sponsor company representatives ($925 each)
 Sponsor logo and profile highlighted in GBA's NEWSlog (reaching 8700+ individuals)
Sponsor logo on conference promotional materials and e-mail blasts
Half-page sponsor ad in the digital/print program
 Sponsor logo displayed on screen and verbal recognition during opening general session remarks
Exhibit Table – in-person: six-foot table, 2 chairs and WiFi access
One Push Notification sent to attendees from GBA's meeting app
 Opportunity to randomly draw attendee names for GBA or sponsor prize giveaways
Attendee Experience Enhancements:
Thursday Welcome Reception / $2,000
Friday Networking Reception /  $2,000
Business Round Table Session / $2,000
Conference WiFi – $2,000
Recharge Portable Battery Packs – $1,000
 Refreshment Breaks – $1,000 (for 2 breaks)
Stay and Play Event /  $1,000
For More Sponsorship Details: HERE
WHY SPONSOR?  THIS IS WHAT ONE SPONSOR SAYS!
"GBA events allow ElmTree System the opportunity to align our organization with influential players in our market. We can make direct contact with new customers and continue to strengthen relationships with existing clients. We especially enjoy the ability to introduce our services to a highly relevant group of decision makers."
Cheryl Wilkerson – Program Director

Looking for more ways to reach geoprofessionals? Consider advertising with GBA via a twice a month NEWSlogs or on our website. Let us help you reach your target audience.
Make sponsorship of GBA's upcoming event part of your company's marketing strategy.