Participate with GBA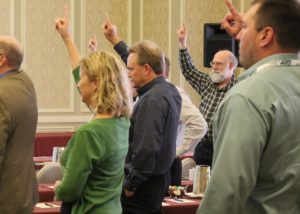 GBA offers spring and fall conferences each year that are open to all members and non-members, along with smaller events throughout the year. GBA events are a terrific way to participate with GBA where GBA members, while competitors, enjoy an environment of trust and mutual support where they can connect with one another and share their experience, advice, support, and opinions about best practices. Learning what works for others may spark new ideas, and relationships created via GBA reveal mutualities that lead to new and greater business opportunities.
While industry knowledge and connections provide a business justification to participate with GBA through its events, many attendees find that personal considerations are just as important in their desire to attend. Our attendees often return year after year to visit with GBA friends, and GBA always welcomes family members to join in, creating a festive and fun atmosphere where geoprofessionals enjoy networking and socializing, knowing that their family members are reconnecting with their old friends, too, and enjoying opportunities planned just for them. More than once we've seen a post-event survey response to the question, "Why did you decide to attend this event?" that is along the lines of "My spouse insisted that we go."
Even if your only concern is continuing education to maintain your professional certifications and licenses, GBA can help. When you participate with GBA, you will often earn professional-development hours (PDHs). Please note that continuing education requirements vary by state and designation. GBA does not guarantee that its PDHs will be accepted everywhere; please review the requirements applicable to you when determining eligibility.
So if you're looking for connections, knowledge, experiences, and business opportunities, participate with GBA. We've got information here about our next big conference, our conference app, a calendar of all our upcoming events , and links to materials and content from past events. You'll be amply rewarded for your efforts.
Join us. Get involved. Succeed.