2018 Fall Conference Proceedings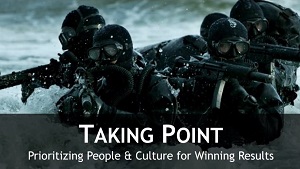 FA18-01 Principles for Building a High-Performance Culture
This video is only available to members; join GBA today to watch it.
Former Navy SEAL combat veteran Brent Gleeson turned his discipline and battlefield lessons to the world of business and has become an accomplished entrepreneur, bestselling author, and acclaimed speaker on topics ranging from leadership and building high-performance teams to culture and organizational transformation. Gleeson provides actionable principles for leaders and managers to use in leading an organization through change and inspirational stories and key insights into how leadership and employee engagement affect productivity and performance. He shares correlations between SEAL culture and high-performance teams in business and how committing to continuous improvement, and prioritizing people, culture, and values drive a company to achieve better results. (44 minutes)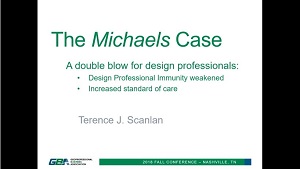 FA18-02 When Good Intentions Go Terribly Wrong: The Michaels Case
This video is only available to members; join GBA today to watch it.
The best intentions do indeed sometimes lead to the direst of consequences. The Michaels case is one such event. This case study of a long-term consulting and design contract for a governmental entity owner examines the risks – and consequences – attached to contractual undertakings with an ill-defined scope, as well as the results of an engineer doing his best to support his client. Following a catastrophic failure, litigation implicated contractual duties, the fundamental question of "standard of care," and the very definition of "signed and stamped plans and specifications." Even the Design Professional Immunity statute in this jurisdiction was substantially affected and weakened. This presentation by Terence "Terry" Scanlan, Esq. (Skellenger Bender) addresses an utterly typical and routine project, a standard set of tasks, and the serious outcome following an owner-caused failure which lead to a death. Take-aways from this session include the importance of a well-defined scope of services for the geoprofessional; executing the scope within defined obligations; and awareness of the significance of interactions with clients relative to ad hoc services. (38 minutes)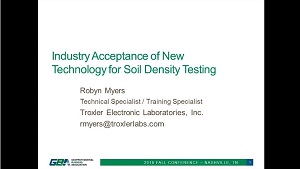 FA18-03 Industry Acceptance of New Technology for Soil Density Testing
This video is only available to members; join GBA today to watch it.
Nuclear moisture density testing has been used for 50+ years. It's been a widely-accepted method of soil density measurement because it's fast, non-destructive, and nearly eliminates operator error. Licensing restrictions, perceived safety concerns, and related fees prompted the industry to seek alternatives. In the last 10 years, several non-nuclear methods have been introduced with minimal acceptance (due to unreliable measurement results and complicated procedures). The latest instrument is a density gauge utilizing nuclear technology, exempt from licensing requirements in the United States due to the low activity radioactive source. Because the new device requires a new ASTM standard (which has been in process for two years), acceptance has been slow. This presentation by Robyn L. Myers (Troxler Electronic Laboratories, Inc.) discusses the new gauge and acceptance testing results from several DOTs, universities, and government agencies (including the Army Corps of Engineers). (43 minutes)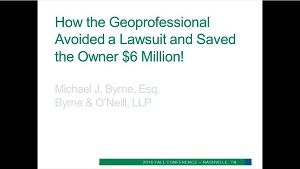 FA18-04 How the Geoprofessional Avoided a Lawsuit and Saved the Owner $6 Million!
This video is only available to members; join GBA today to watch it.
The owner/hospital built a medical office building with floors built over aggregate shale which cracked due to expansion. The hospital subsequently built an addition with foundations resting on undisturbed shale. Recalling the medical office building project, the owner called for a second opinion from a new engineer (owner's "expert") who called for a $6 million fix to secure the foundations from the anticipated effects of shale heave. The original geoprofessional knew from experience that aggregate (chopped) shale will expand with sufficient force to raise a floor, but undisturbed shale cannot be expected to heave and — even if it did — would not expand with sufficient strength to raise or damage a hospital foundation. The geoprofessional stayed actively involved, challenged the owner's "expert", and successfully persuaded the owner that the proposed $6 million fix was unnecessary, avoiding a claim based on the costs of that fix plus the inevitable delay claims. Michael J. Byrne, Esq. (Byrne & O'Neill, LLP) tells the story. (37 minutes)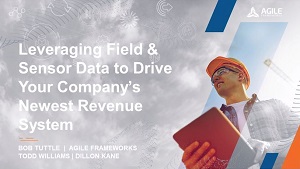 FA18-05 Leveraging Field and Sensor Data to Drive Your Company's Newest Revenue System
This video is only available to members; join GBA today to watch it.
Your data, the data your firm produces, collects, and analyzes, is your firm's unique identifier. The most valuable organizations use the data to drive innovation, client value, and operational predictability. Explore how harnessing your data and putting it to work creates new value for clients and operational excellence and revenue for your firm. Presented by Todd Williams (Dillion Kane Group) and Robert "Bob" Tuttle (Agile Frameworks). (32 minutes)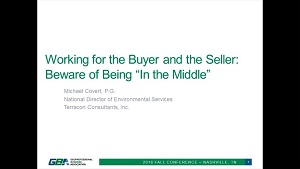 FA18-06 Working for the Buyer and the Seller: Beware of Being "In the Middle"
This video is only available to members; join GBA today to watch it.
Buyers and sellers have different objectives. Working for both parties on a transaction with significant problems can put the consultant in a difficult position: "in the middle". Michael E. "Mike" Covert, P.G. (Terracon Consultants, Inc.) presents two case studies:
Evaluating the challenges and lessons learned after providing environmental services to the seller, granting reliance to the buyer, and dealing with a major pipeline release subsequently discovered during residential subdivision development by the buyer.
A consultant working exclusively for the buyer, and discovery of significant environmental impacts during development that the seller knew about but did not disclose. (40 minutes)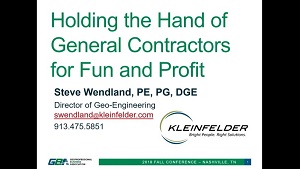 FA18-07 Holding the Hand of General Contractors for Fun and Profit
This video is only available to members; join GBA today to watch it.
General contractors (GCs) can be attractive sources of revenue and rewarding client relationships for geoprofessionals. Building those relationships can add some variation and interest in the workload for senior consultants and can even allow you to strike back at commoditization of geotechnical services by providing peer review and on-call geotechnical support services. GCs are often at a disadvantage when geotechnical problems (e.g., unexpected rock excavation) occur because they don't involve a geoprofessional early in the process. With a geotechnical peer review prior to construction and a geoprofessional as part of the team throughout the project, issues can be avoided altogether, and the GC will be fairly represented with a peer who's focused on the GC's interests. Steve Wendland, P.E., R.G., D.GE (Kleinfelder, Inc.) presents the value of these relationships, the risks involved, and how to market these services (e.g., excavation stability, change orders) on an on-call basis throughout construction. He highlights examples from his 12 years and 400+ projects providing this support to GCs. (42 minutes)
FA18-08 Real Benefits of Using Technology for Safety Management: A Practical Discussion
This video is only available to members; join GBA today to watch it.
The integration of technologies that provide employees with safer work environments and provide companies with significant efficiency improvements has been occurring at a pace unlike any other. Yet many firms continue to manage safety as they always have. Richard L. "Rick" Ecord, Jr., CIH, CSP (GZA GeoEnvironmental, Inc.) highlights some existing and emerging technologies, their benefits, and how your firm can begin using them immediately. (35 minutes)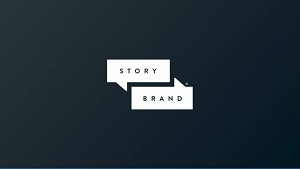 FA18-09 StoryBrand
This video is only available to members; join GBA today to watch it.
When it comes to discussing their businesses, many people are so close to their products or services they don't know where to start. Donald Miller, the CEO of StoryBrand and a New York Times bestselling author of three books, knows how hard it is to communicate clearly and has helped hundreds of large and small businesses clarify their messaging. With a clarified message, your website starts working for you, your team members are converted into a sales force, and your customers speak a viral message that spreads. In Donald's keynote, you:
Learn a proven communication formula that has been used in thousands of major motion pictures.
See how this formula has been used by the world's top brands in commercial, print ads, and web-based marketing.
Discover how this framework can be applied to your company's messaging.
The human brain is drawn to clarity and away from confusion. If customers are confused about what you offer, they'll look past you for somebody who can say it clearly. Once you clarify your message, your company will begin to grow. Companies that clarify their messaging win in the marketplace. (55 minutes)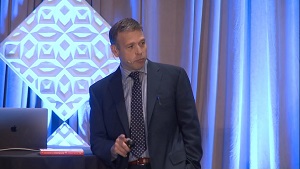 FA18-10 Five Things Your Website Should Include
This video is only available to members; join GBA today to watch it.
As a rule, people should be able to go to your website and understand what your firm offers within five seconds. If it takes an individual longer than five seconds, you're losing sales. Most companies don't have millions of dollars to spend on a marketing campaign. These days, you can get serious traction just paying attention to your digital presence. A great digital presence starts with a clear and effective website. Your website isn't the only tool you need to motivate potential customers, but it is usually the one that does the heavy lifting. People may learn about your company via word of mouth or social media, but they definitely will go to your website to learn more. In this session, Donald Miller (StoryBrand) shares with you five things your website should include so you can convert browsers into customers. (27 minutes)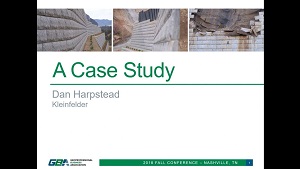 FA18-11 Retaining Wall – Case Study
This video is only available to members; join GBA today to watch it.
This presentation by Daniel L. "Dan" Harpstead, P.E., F.GBA (Kleinfelder, Inc.) is prepared in the classic GBA case study format, with a twist: presentation of key facts and audience identification of potential risks, followed by presentation of additional problems that occurred and audience re-evaluation of potential risks. This session is a first-hand evaluation of a retaining wall collapse within a week of a box store's opening that triggered a multi-million dollar emergency response and repair. A GBA member firm performed the geotechnical evaluation, designed the wall, and provided CoMET services during construction. While technical errors were alleged, better employment of the GBA business management and risk management philosophies may have kept the member firm from participating in the financial loss. This "lesson learned" explores the importance of project management, technical leadership, and management of client expectations, and includes open discussion with the audience. (52 minutes)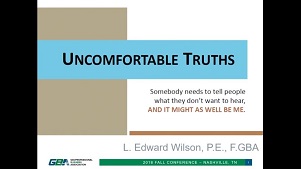 FA18-12 Uncomfortable Truths: Somebody Needs to Tell Folks What They Don't Want to Hear, and It Might as well Be Me
This video is only available to members; join GBA today to watch it.
The professional services market is changing rapidly, and GBA member firms must proactively embrace change and focus on creating opportunity. Engineers are often encumbered by tradition and cultural constraints that cause us to do things by rote or ignore potential process improvements. But there are specific policy, management, functional, and operational changes we can and should adopt to make our enterprises more profitable, more valuable, and more successful competitors. We concentrate on how to compete … instead of how to win. What should your firm stop doing? Which changes should you embrace aggressively? How can you get ahead of the opportunity curve and stop being reactive in a business environment that's situational? You'll benefit from presenter L. Edward Wilson, P.E., F.GBA (L. Edward Wilson and Associates, Inc.)'s 40+ years of experience (half spent as a chief executive of nationally recognized engineering businesses; half spent as an advisor to former competitors, industry consolidators, and other businesses committed to growth and profitability). The presentation is provocative, entertaining, and probably challenges some conventional norms. (43 minutes)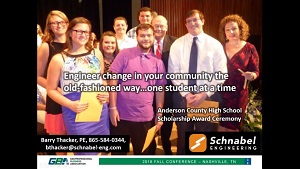 FA18-13 Bringing the Geoprofession to Life
This video is only available to members; join GBA today to watch it.
Would you like to learn a fun and rewarding way to communicate with a multi-generational and diverse audience? Try portraying a legend of the geoprofession as a living historian. This presentation by Barry K. Thacker, P.E. (Schnabel Engineering) illustrates how it's done, including operation of a time machine to bring history to life. Who knows … maybe it will motivate you to teach aspects of American history in the classroom as living historians Herbert Hoover, Arthur Morgan, John Frank Stevens, or Florence Bascom. Quit complaining about the quality of education for Gen Zers by getting off your keister and doing something about it. See how a career as a geoprofessional can be more than just a job; it can be an adventure, especially when you venture into today's classrooms. In the process, you might learn that decision-makers (potential client representatives, elected officials, and government leaders) share your passion for improving the quality of life in your community. (42 minutes)