Environmental Justice: A Primer for Geoprofessionals
GBA Environmental Business Committee
Authored by Margaret Panatera, P.E. (GZA GeoEnvironmental)
Reviewed/edits by Daniel Gradishar, P.E. (Terracon) and Victor Barchers, PE (Kleinfelder)
1. What is Environmental Justice?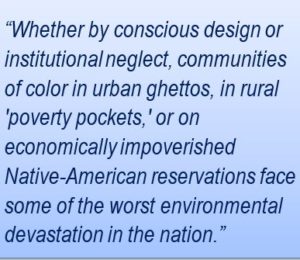 Environmental justice (EJ) involves the fair treatment and meaningful involvement of all people regardless of race, color, national origin, or income as it relates to development, implementation and enforcement of environmental laws, regulations, and policies. No group bears disproportionate share of negative environmental consequences. Groups and individuals have an opportunity to participate in decisions and voice community concerns as it relates to EJ.
EJ impacts site locating, permitting, and conditions for new development or redevelopment.
2. What do Federal Regulatory Agencies Recommend?
Several Federal regulatory agencies and state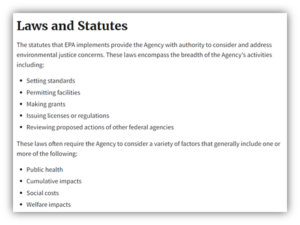 agencies recently made EJ a priority in future strategic planning. Specifically, Executive Order 12898 in 1994 started the EJ movement.  EJ integration at the EPA has occurred with every regional and headquarter office having an EJ coordinator. The EJ coordinators have a suite of programs in specific areas of interest such as air quality, drinking water, hazardous waste sites, and lead.
3. What are the Potential Business Opportunities for Geoprofessional Consulting Firms?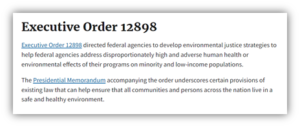 GBA firms provide assistance with permitting considerations during hearings, on submitted plans, and through various other outreach channels. With more focus on EJ, public outreach and community learning becomes a valuable input for regulatory agencies. Experience with managing EJ concerns in our projects can be a significant competitive advantage to GBA members
Learn More About Environmental Justice: HERE