2000 Fall Conference: A Recession Is Coming…Be Prepared
MEMBERS: Please login when viewing this page! You'll have free, easy access to the video.

This video was produced when the Geoprofessional Business Association was known as ASFE.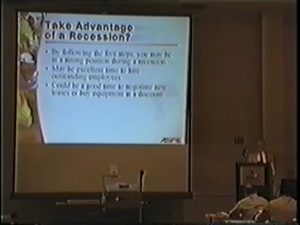 A RECESSION IS COMING…BE PREPARED
This video is only available to members; join GBA today to watch it.
What can you do to come out of an economic downturn stronger than when you went into it? That's the focus of the October 13, 2000 Fall Meeting presentation that many Geoprofessional Business Association (GBA, formerly ASFE) members categorized as "one of the best ever." The speaker was GBA Past President Donald V. Roberts, P.E., an extraordinarily insightful and experienced engineer/businessmen. The quality of the video isn't great, but the audio is crisp, and the message is extremely valuable. (79 minutes)