Adam Markel: Build Resilient Leaders and Change Proof Cultures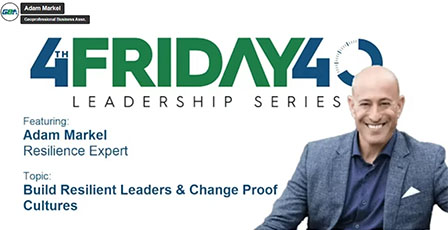 Build Resilient Leaders and Change Proof Culture
This video is only available to members; join GBA today to watch it.
Over the past couple of years leaders were increasingly faced with the challenge of optimizing employee performance while championing them through very real disruptions like a pandemic and social unrest.
We're also witnessing a cultural shift where a large percentage of employees, in particular millennials, have new expectations around what is required to build a culture of collaboration and productivity. This is bolstered by the learnings from the Great Resignation.
The way forward is to become Change Proof – to have the capacity to leverage uncertainty and change – whether it's the new normal or the next normal – to build long-term growth.
In this presentation Adam Markel talks about the importance of resilience in individuals and organizations. Employees working in resilient organizations report better health, more energy, and lower burnout. He also gives suggestions on how to address stress and avoid burnout through different strategies. (39 minutes)