Gloadean Champion: The Anti-DEI, DEI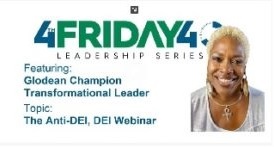 The Anti-DEI, The DEI
This video is only available to members; join GBA today to watch it.

Glodean Champion is a Transformational Leader who specializes in personal growth, leadership development, and diversity, equity & inclusion (DEI). She works with individuals and organizations to get to the root cause of culturally based challenges by transforming beliefs, behaviors, and assumptions. Glodean's unique approach to this centuries-old endeavor is rooted in the practice of engaging with people's core emotions, cultural competencies, and situational and self-awareness through coaching, training, and workshops. She believes in meeting people "where they are" and leading them where they want (or, possibly, need) to be.
Glodean is the author of Salmon Croquettes, a coming-of-age story about a 12-year-old girl's journey to self-discovery and sexual identity. It's set in 1965 Watts, Los Angeles and is historical fiction about the true catalyst for the Watts Riots. She's currently working on the sequel to Salmon Croquettes, as well as a memoir, Tough Love: Sh*t My Momma Used to Say, which chronicles her life and loving relationship with her first intentional leader, her mother, Frances Champion.
Glodean is also a keynote speaker who speaks professionally on issues relating to diversity and inclusion. She is exceptionally engaging, funny and passionate, and pulls from her upbringing and the influence of her mother to create stories that connect with her audience. Her approach to delicate subjects is with honesty, authenticity, and vulnerability and she is a master at challenging and captivating audiences of all kinds in a way that forces them to take pause and listen from the heart, something she believes we need more of if we want to make the world a better place.
This webinar is designed for leaders of all levels. Glodean Champion reviews the basic concepts and topics of diversity, equity, inclusion, and bias and why they don't work, long-term, without a strong foundation of L.O.V.E. and CARE. Participants explore how implicit attitudes and socializations impact our decisions and the interactions we have with one another. By the end of this foundational session, participants will have the power of self-awareness and the importance of connection in the workplace and beyond.
Here are three takeaways:
– Explore the reasons the old approach to DEI hasn't worked.
– Understand the distinction between bias and choice.
– Learn how to create opportunities to lean into L.O.V.E. to strengthen your relationships