John Doehring: Rocket Firm, Rocket Success!Building Transformative Practice Foundations for Transformative Business Results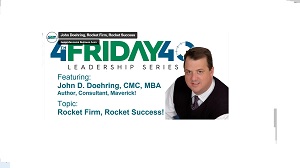 Rocket Firm, Rocket Success! Building Transformative Practice Foundations for Transformative Business
This video is only available to members; join GBA today to watch it.
Yes, we are living and working in extraordinary, exponential times. Extraordinary challenge, indeed: global pandemic, emotional distress, supply chain disruptions, high energy prices, accelerating inflation, sliding stock market, polarized politics, and a stupendously tight employment market. And yet, even still, professional business fundamentals remain extraordinary as well: soaring demand, burgeoning backlogs, value of expertise, transformational technology, demographic shift, and scarcity of talent. Most professional firm practices are busy, profitable, and strong. So now is not the time for pause, complacency, or inaction. Forward-thinking and future-focused leaders today are aggressively pursuing new ideas, new approaches, and new methods – to accelerate their success into the Fast Future world ahead. Please join us for a high intensity, engaging, and entertaining, look at how these new, innovative approaches to strategic planning, leadership development, and operational execution can lift your firm beyond well the good – and blast off to extraordinary!
Learning Objectives:
1. Catch up now on what's happening and what' ahead in our early 21st century, Fast Future adventure.
2. Discover what is working (and what isn't) in strategic planning, leadership development, and operational execution in the progressive professional firm today.
3. Commit to developing a new plan for your firm (or level up the one you have now) – for extraordinary growth, profit, and sustainable business success!
4. Leave with a tangible, tactical, action-focused, and crystal-clear plan for your next steps – and get going now!
(49 minutes)