Multi-Level Leadership: Stop Waiting, Start Leading – Lynn Price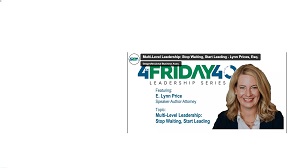 Multi-Level Leadership: Stop Waiting, Start Leading
This video is only available to members; join GBA today to watch it.
Leadership is not a position, it's a mindset! It's looking for opportunities to influence others. Multilevel leadership means leading your peers, your superiors, people outside of your organization, and those within your community – not just your subordinates. Don't wait to get a new title or a new position to start being a leader. Instead, learn how to focus on leadership opportunities that are surrounding your right now.
And here are three key learning objectives:
1. Why leadership is about your mindset, not your title or job description.
2. Where to find opportunities to "Lead Up" and provide unexpected value to your managers, directors, etc.
3. How to engage in "Lateral Leadership" among your peers without creating animosity.
(40 minutes)