2014 Fall Conference Proceedings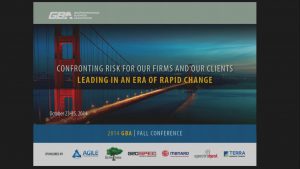 14-FA-01: Legendary Leadership in Changing Times
This video is only available to members; join GBA today to watch it.
Constant challenges are a fact of life in today's business world, making effective leaders more important than ever. Some groups are weakened by challenges. Others welcome the challenges and use them as a time to learn, grow, and contribute more. Nate Booth addresses the essential beliefs and skills outstanding leaders use to create environments where challenges bring out the very best in their people. (56 minutes)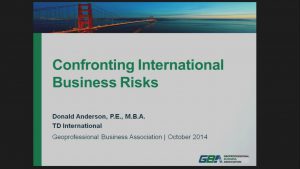 14-FA-02: Confronting International Business Risks
This video is only available to members; join GBA today to watch it.
Connected to the here and now via the Internet, the world's have-nots see what others have and want some of it themselves: The growing demand for preservation of natural resources, development of effective infrastructure, and creation of renewable energy sources is creating unique opportunities for geoprofessionals in diverse emerging and frontier markets. With opportunity comes risk, of course, and Donald Anderson discusses how to confront those associated with international business, sharing his experience as an engineer and risk consultant. His presentation addresses recent case studies from Ukraine, West Africa, and Asia, to help you take advantage of the opportunities and avoid the pitfalls of working outside the U.S. (27 minutes)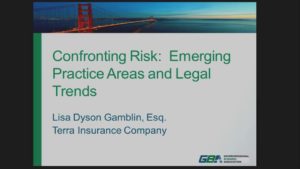 14-FA-03: Confronting Risk: Emerging Practice Areas and Legal Trends
This video is only available to members; join GBA today to watch it.
New business opportunities are often accompanied by new types of risks. The best way to confront these risks is to proactively avoid them or minimize them. Lisa Dyson Gamblin explores some of the newer growth areas for geoprofessional firms, including international and Native-American Indian Tribe commissions, and some of the problematic contractual trends that are starting to develop. She offers practical solutions on how to minimize risk and claims while striving to maximize success. (35 minutes)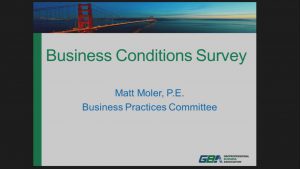 14-FA-04: Business Vision: October 2014-April 2015
This video is only available to members; join GBA today to watch it.
How accurate were the business-conditions predictions you and your geoprofessional peers made six months ago? And what are you and your peers predicting for the next six months? Business Practices Committee Vice Chair Matt Moler, P.E. reports findings of the Committee's most recent business-conditions survey. Matt's presentation provides insight that can help guide your business decisions as we move through 2014 and into 2015. (12 minutes)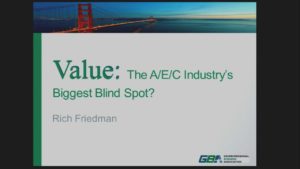 14-FA-05: Value: The A/E/C Industry's Biggest Blind Spot?
This video is only available to members; join GBA today to watch it.
Far too many firms struggle with identifying and articulating their differentiators, benefits (not features!), and value. All too often, expensive off-site and other meetings are held where principals, marketing staff, and others pontificate these topics without the benefit of external data points. If one of our primary challenges is establishing our value to command the fees we warrant (plus avoiding commoditization in some markets), then we must understand what our clients' value and how they measure it. In this presentation, Rich Friedman shares tools and methods for gathering critical feedback from your clients and prospects, and for applying the feedback to effect organizational change across many areas—including strategic planning, marketing and business development, and project management/delivery. (43 minutes)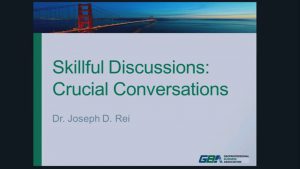 14-FA-06: Skillful Discussions: Crucial Conversations
This video is only available to members; join GBA today to watch it.
Dealing with conflict and handling difficult conversations are challenges many leaders face. Leaders who develop the ability to conduct difficult conversations also develop the ability to show respect for the other person and assert their own needs. The techniques Dr. Joseph Rei will tell us about can be particularly helpful when entering a negotiation or a conversation about matters that create an adversarial situation. Learn how to:
develop the art of skillful communication,
balance inquiry with advocacy,
negotiate impasses, and
disagree while maintaining an open dialogue.
(43 minutes)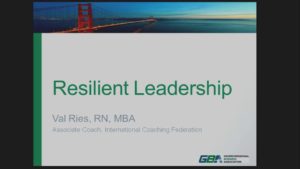 14-FA-07: Resilient Leadership: Key Techniques to Navigate Risk with Less Stress and More Success
This video is only available to members; join GBA today to watch it.
Most of us are burning the candle at both ends trying to keep up with the ever-changing demands of society. We feel the pressure of client concerns, technology advances, family commitments, and health changes. We may feel guilty putting our own needs first, leading to tiredness, worry, and stress. In this session, you'll learn empowering techniques to navigate those demands; techniques to increase your resiliency in times of change in order to deepen your bottom-line results, relationships, and work/life success. (36 minutes)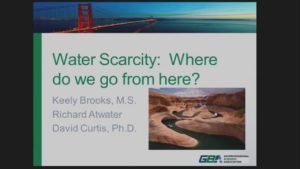 14-FA-08: Water Scarcity: Where Do We Go from Here?
This video is only available to members; join GBA today to watch it.
Climate change is wreaking havoc on our planet. Floods, temperature extremes, and erratic and powerful weather events have become almost-everyday events, with droughts being particularly problematic. In fact, the Center for Climate and Energy Solutions reports that, in 2012, drought affected more than 81% of the continental U.S., causing some $30 billion in damages. Now, the Western U.S., and California in particular, is undergoing its worst drought in more than 40 years. What does that mean for geoprofessionals? Learn from the experts who work with agencies in California and Nevada that are trying to combat water scarcity. Our panelists provide insight, set expectations, and discuss what some are doing right now to prepare for and react to water scarcity, using the Western U.S. as the latest example of what could continue to be an ongoing, broad-scale, climate-driven environmental challenge for us all. (64 minutes)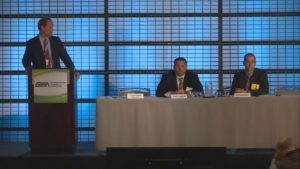 14-FA-09: Great Minds Sharing Great Ideas: Business Round Table Discussion Download
This video is only available to members; join GBA today to watch it.
The EIT Committee and Business Practices Committee are joining forces to provide the key points on the business impact of information technology (IT) in a unique, recap of Friday's Business Round Tables. Charlie Head moderates a panel of roundtable leaders, including two IT experts in a live Round Table discussion focusing on how member firms are mitigating exposure from IT risk and how member firms are leveraging technology as a profitable business function. (29 minutes)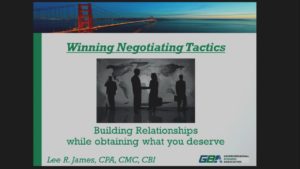 14-FA-10: Winning Negotiating Tactics
This video is only available to members; join GBA today to watch it.
Too frequently, geoprofessionals fail to earn what they deserve because they fear negotiating will damage a relationship or possibly cause the loss of a client. Because of this fear, geoprofessionals get less than what they deserve, leading to lower profit, project overruns, liability issues, and dissatisfaction on all sides. This session opens geoprofesionals' minds to the value of negotiating for themselves, their clients, project managers, other business partners, and even personal relationships. Many real life experiences are shared that bring to life negotiating practicality and usefulness. Lee James discusses a variety of cases that demonstrate how a core-value and principle-based approach can give you the basics you need to obtain what you deserve while building strong relationships. (43 minutes)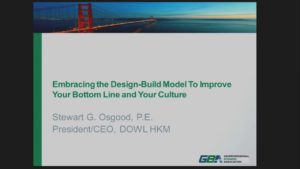 14-FA-11: Embracing the Design-Build Model To Improve Your Bottom Line and Your Culture
This video is only available to members; join GBA today to watch it.
Alternative project delivery is here to stay. Clients, particularly public-sector clients, are realizing that the old way of plan the project, design the project, bid the project, and call me when it's done does not work well in today's world of faster-better-cheaper. Planners, designers, constructors, and maintenance folks are sitting down and working in a team environment to deliver better projects, quicker, and for less money. These collaborative project relationships require trust and understanding of the financial models and risk/reward profiles that firms can accept. Often, the architect and engineer feel threatened by working with or for a contractor based on ethical/professional concerns, or financial concerns. Through a series of lessons learned (the easy way and hard way), Stewart Osgood presents tested models and central tenets to abide by. (42 minutes)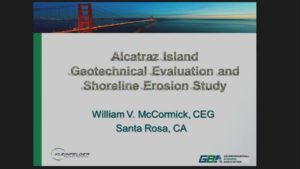 14-FA-12: Alcatraz Island Geotechnical Evaluation and Shoreline-Erosion Study
This video is only available to members; join GBA today to watch it.
Over the last 150 years, many natural and manmade changes have occurred on Alcatraz. Completing the island's first comprehensive geologic and geotechnical-hazards assessment required both detailed historical review and modern, on-the-ground geologic study on, above, below, and around the island's circumference. It also required using a variety of investigative methods, including surface mapping, historical aerial photograph interpretation, and cliff-mapping by boat. This study provided the National Park Service with the first-ever geologic risk-assessment zonation map that identifies problem areas and provides recommendations, on a relative-rated risk basis, for areas needing immediate study and mitigation as well as for future, phased-mitigation studies for public safety and cultural restoration. (30 minutes)