2016 Spring Conference Proceedings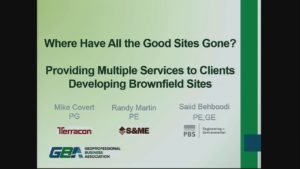 Where Have All The Good Sites Gone? Providing Multiple Services to Clients Developing Brownfield Sites
This video is only available to members; join GBA today to watch it.
Location, location, location – the three most important aspects of any development! Unfortunately, for communities seeking growth in an area, many of the best locations have some type of "history" in which redevelopment can be complicated by the presence of contamination or other hazardous substances. If these sites are identified under the Environmental Protection Agency's Brownfield program, geoprofessionals have the opportunity to provide a wide range of services during development including, but not limited to, grant preparation assistance, permitting, environmental site monitoring, geotechnical exploration and design, and construction materials engineering and testing (CoMET). Hear from representatives of GBA's Environmental, Geotechnical, and CoMET Business Councils as they share their experiences and "lessons learned" with these sites. (38 minutes)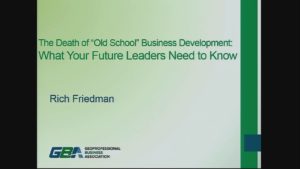 The Death of Old School Business Development: What Your Future Leaders Need to Know
This video is only available to members; join GBA today to watch it.
Now, more than ever, the importance of institutionalizing a firm-wide business development culture is paramount to the long-term success of your firm. Relying on a few key rainmakers puts your firm at risk. Further, the inability to tap and develop future business development leaders all too often results in departure of key talent – to other firms and other industries. In this session, Rich addresses how business development has evolved in the consulting industries; why it is important to build a top down business development culture; how to identify key business development talent within your organization; and how to cultivate that talent. Rich also shares successes. (56 minutes)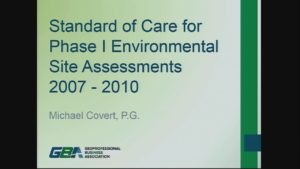 Update on the Phase I Environmental Standard of Care Site Assessment
This video is only available to members; join GBA today to watch it.
GBA has previously developed documents describing the standard of care in the industry for performance of Phase I Environmental Site Assessments (ESAs). These documents have been widely accepted in litigation matters as generally representative of the national standard of care and have helped GBA member firms combat expert testimony based solely on personal experience. The standard of care for Phase I ESAs had not been reviewed since the 1990s, and was in serious need of an update. GBA's Environmental Business Council has addressed this need to update the standard of care, and Mike provides a summary of their findings. (20 minutes)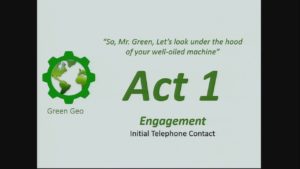 So, Mr. Green, Let's Look Under the Hood of Your "Well-Oiled Machine"
This video is only available to members; join GBA today to watch it.
In October 1999, Engineering News-Record lauded the GBA Peer Review as one of the most significant construction industry innovations of the prior 125 years. As a GBA member firm, you can take advantage of this incredible opportunity to have senior practitioners who have run businesses like yours come in, evaluate your business, and share their perspectives on how you can have a better, healthier business. In this light-hearted drama about Green Geo, the "Peer Review Players" take you behind the scenes to show you how the Peer Review process works and the very serious benefits it can bring to your firm. (40 minutes)
Maintaining Professionalism as an Expert Witness
This video is only available to members; join GBA today to watch it.
When claims are made against design professionals, liability will ultimately turn on the testimony of expert witnesses. Too often, poorly prepared or even misled experts render unsupported standard of care testimony, which prolongs litigation and unnecessarily increases costs. Yet, claims assistance is a growing source of revenue for many design professionals. Denise focuses on maintaining professional integrity through detailed inquiry, proper documentation, informed expert opinion development, and managing the attorney who retained you. Protect your professional reputation by being the best prepared and most knowledgeable witness in each case. (50 minutes)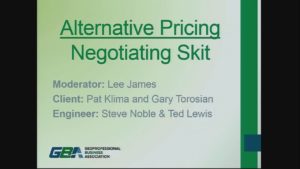 Real Life Negotiating
This video is only available to members; join GBA today to watch it.
Witness negotiating teams successfully implementing principled methods that enable you to obtain what is deserved while building stronger relationships. Your peers will negotiate situations you frequently find yourself experiencing. Using proven techniques, win/win results occur almost naturally. This session prepares you for future scenarios and makes you more comfortable in completing the negotiating process of scoping, pricing, contract terms, changes, and other professional and personal situations. (38 minutes)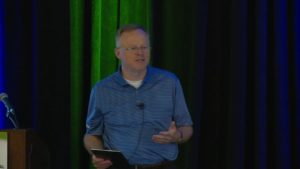 Professionalism in Motion
This video is only available to members; join GBA today to watch it.
GBA's King of "Summing it Up" provides an exciting and informative re-cap of the Dallas meeting, hitting on the lessons learned from the two-day Professionalism in Motion session line-up, and touching on ways to pay it forward to our staff at home. (19 minutes)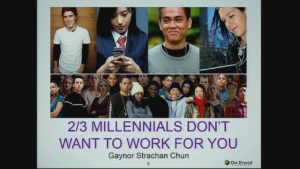 2/3 Millennials Don't Want to Work for You! How to Cultivate Millennial Leaders.
This video is only available to members; join GBA today to watch it.
By 2020, 75% of our workforce will be under the age of 40. How will you and your organization attract and retain the Millennial talent you need to continue to grow your business? Clearly continuing to "diss" them is not a good recruitment strategy. Yes, they are different. Yes, they can be exasperating at times. But, people thought the Boomers were different when they started working! In this session, Gaynor helps you understand how different Millennials really are (or not), the impact they will have on your organization's structure and culture, how to develop Millennial leadership, and the far reaching business consequences of not putting a plan in place to manage this critical generational transition. This interactive session gives you pragmatic information, ideas, and pointers for attracting, retaining, and managing Millennials so you can cultivate the next generation of leadership and help secure your future business growth. (70 minutes)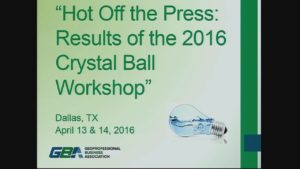 Crystal Ball Workshop Download
This video is only available to members; join GBA today to watch it.
The Emerging Issues and Trends (EIT) Committee has once again peered into its crystal ball to identify issues and trends that are critical in planning for our rapidly changing times. Art presents preliminary workshop findings and provokes thought by discussing some of the eye-opening realities facing Member Firms. (11 minutes)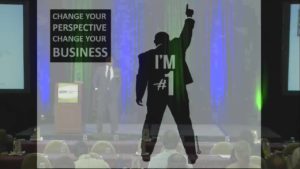 Change Your Perspective, Change Your Business
This video is only available to members; join GBA today to watch it.
"It's not the strongest species that survives, but the one that is most responsive to change"- Darwin
How well your organization and its employees manage CHANGE will be a key source in your competitive advantage. The longer it takes for you to change, the longer you stay the same, and the more the competition steam rolls ahead. Change is the catalyst for survival and effective change management is critical when attempting to transform any organization. Breaking through resistance, building coalitions and getting people to buy into the new vision isn't easy – it's NECESSARY. During this presentation, Change Management expert Jonathan Edison provides valuable insights and effective strategies that will benefit any organization contemplating or undertaking a major CHANGE. (92 minutes)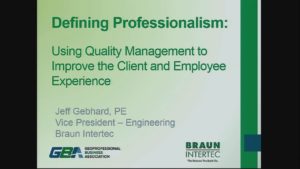 Defining Professionalism: Using Quality Management to Improve the Client and Employee Experience
This video is only available to members; join GBA today to watch it.
To achieve their vision of being the Consultant and Employer of Choice, Braun Intertec uses Quality Management to systemically define, measure, analyze, improve and control work output. Their multi-service Quality Management System uses a unique approach to capture voice-of-customer and voice-of-employee to design internal processes to improve both the customer and employee experience. In this presentation, Jeff provides a case study on how a Quality Management System focused on the customer and employee experience can improve accountability and performance excellence. (29 minutes)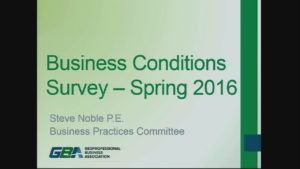 Business Snapshot Survey Report
This video is only available to members; join GBA today to watch it.
How have your firms performed over the past 12 months, and what are your predictions for the next 12 months? Steve, a member of the Business Practices Committee, reports findings of the committee's most recent business-conditions survey, and provides insights that can help guide your business decisions through 2016. (11 minutes)