2017 Fall Conference Proceedings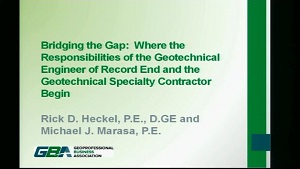 FA17-02 Bridging the Gap: Where the Responsibilities of the Geotechnical Engineer of Record End and the Geotechnical Specialty Contractor Begin
This video is only available to members; join GBA today to watch it.
The Geotechnical Business Council (GBC) formed a special task force (comprised of prominent geotechnical consultants and geotechnical specialty contractors) to collaborate about ways to bridge this gap. GBA member-firm representatives Richard D. Heckel, P.E., D.GE (Ardent Geotechnical Consultants, LLC) and Michael J. Marasa, P.E. (Hayward Baker, Inc.) present the contractor and consultant points of view from the task force's meeting in fall 2016. (23 minutes)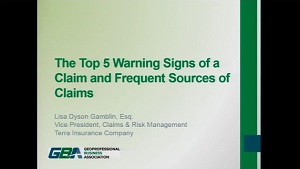 FA17-04 The Top 5 Warning Signs of a Claim and Frequent Sources of Claims
This video is only available to members; join GBA today to watch it.
Anyone who has lived through a claim knows that claims cost more than money: sleep, productivity, stress, and sometimes business relationships. It's important to be vigilant and proactive in recognizing and addressing possible claims. Lisa Dyson Gamblin, Esq. (Terra Insurance Company) identifies the top 5 precursors to claims and suggest ways to mitigate claims before they develop or worsen. We examine statistics from Terra's exhaustive claims database and discuss the types of owners, clients, and projects that tend to drive claims frequency and severity. (22 minutes)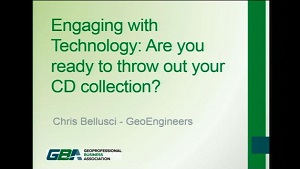 FA17-05 Engaging with Technology: Are You Ready to Throw Out Your CD Collection?
This video is only available to members; join GBA today to watch it.
Some change is easy – like ditching your flip-phone for a smart phone. But what about things you're heavily invested in? You have time, money, infrastructure (yeah, we mean that CD player), and quite a few good memories invested in that CD collection. Do you really need to go digital? If 8-tracks and boom-boxes are any indication, then yes, you probably do! In the geoprofessional world, revolutionary technology changes are on our doorstep and companies must prepare their people and business for future changes (e.g., sensors, drones, autonomous vehicles, and the cloud). How will you adapt and even take advantage of the new technology? Chris Bellusci (GeoEngineers, Inc.) suggests we start by understanding them so we don't fear using them. (26 minutes)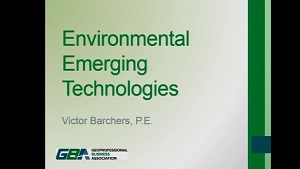 FA17-06 Environmental Emerging Technologies
This video is only available to members; join GBA today to watch it.
Technology and innovation provide opportunities for increased efficiency and profitability for environmental services, while also providing value to our clients. Victor S. Barchers, P.E. (Kleinfelder, Inc.) discusses technologies and concepts that can be applied through each phase of an environmental project lifecycle to help geoprofessional firms incorporate modern approaches to due diligence, site characterization, routine monitoring, and remediation. He demonstrates how the efficiencies and data resolution gained from these technologies can ultimately reduce the overall lifecycle cost. (39 minutes)
FA17-07 Deposition Dos and Don'ts for the Geoprofessional
This video is only available to members; join GBA today to watch it.
It is highly likely that as a geoprofessional, at some time during your professional career, you will be subpoenaed to testify at a deposition, either as a party to the case (as the "geoprofessional of record" on the project), as an expert, or as a non-party witness. How you perform at the deposition can have a significant impact on the case such as by changing the value or direction of the case. Led by Michael D. Dodd, Esq. (Shannon & Wilson, Inc.) and Douglas C. Purdy (Clark Hill, LLP), through a mock deposition, this session focuses on a case study in which a geoprofessional is being deposed as a party to the lawsuit or as a non-party witness, and provides tips on preparing for the deposition and the best ways to answer questions. It examines what could have been done differently by the witness to change the outcome of the deposition. (40 minutes)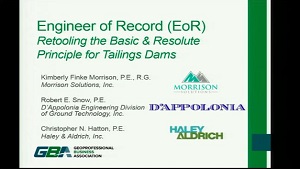 FA17-08 Engineer of Record: Retooling the Basic & Resolute Principle for Tailings Dams
This video is only available to members; join GBA today to watch it.
Engineer of Record (EoR) is a simple and resolute concept that is applied throughout the western world for civil works construction. But how can the EoR concept be applied to a transient design – one that implements the observational approach with a construction life that covers decades, often exceeding a design engineer's career or lifetime, and one that is directly impacted by changes in the state of practice? Tailings storage facilities (TSFs) are the necessary result of successful mining, milling and/or power production. However, unlike conventional water storage dams that are viewed as an asset by their owners, TSFs and the dams that retain them are an ever-expanding and undesirable — yet necessary and ongoing — liability throughout the life of operations and into perpetuity. In the wake of the Mount Polley (Canada) tailings dam failure in August 2014 and the Samarco (Brazil) tailings dam failure in November 2015, the efficacy of the EoR for TSFs has been brought into question globally. GBA's Tailings EoR Task Force is leading this important initiative in the United States. Presented by Kimberly Finke Morrison, P.E., R.G. (Morrison Solutions Inc.), Christopher N. Hatton, P.E. (Haley & Aldrich, Inc.) and Robert E. Snow, P.E. (D'Appolonia Engineering Division of Ground Technology, Inc.). (38 minutes)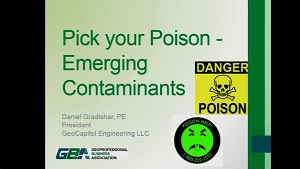 FA17-09 Hazard! Pick Your Poison: Emerging Contaminants
This video is only available to members; join GBA today to watch it.
Are you ready to take on a new list of emerging environmental contaminants? Our dynamic business climate includes changes to the regulatory guidance associated with assessment, analysis, and remediation of a new list of contaminants. During this session, Daniel F. Gradishar, P.E. (GeoCapitol Engineering, LLC) shares information about arsenic, 1-Dixon-Furan, BPA, PAHs, micro-beads, and other emerging contaminants so you can help guide your clients with up-to-date information about managing their environmental risks. (23 minutes)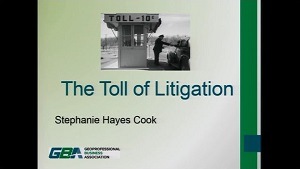 FA17-10 Toll of Litigation
This video is only available to members; join GBA today to watch it.
Have you or your firm been brought into a lawsuit? Stephanie Hayes Cook (Andrews Myers, P.C.), a seasoned construction lawyer, provides valuable insight on the financial and the emotional toll that litigation can have on your firm and you personally. You learn how geoprofessionals are viewed in litigation and how you, as a geoprofessional, are likely to be brought into a lawsuit by either the plaintiff or another defendant.
Litigation is often rationalized as just a cost of doing business. Often, it's not about who's right and who's wrong, but who has money available to pay or contribute to the damages. Unfortunately, the stress of litigation can be more devastating and debilitating than the financial costs. Fear, anger, and humiliation leading to tension and stress-related disorders are but a few of the common emotional responses and consequences of a claim. If you're not successful in avoiding litigation, your goal will be to minimize its personal and professional impact and get it behind you as quickly and economically as possible. (27 minutes)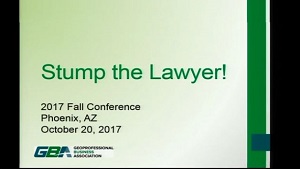 FA17-11 Stump the Lawyer
This video is only available to members; join GBA today to watch it.
Stump the lawyers and win a prize! This panel of in-house and outside-counsel attorneys, made up of Fred J. Potthast, P.E., GE (Earth Systems Pacific), Ji Shin, Esq. (Earth Systems, Inc.), Michael D. Dodd, Esq. (Shannon & Wilson, Inc.), Douglas C. Purdy (Clark Hill, LLP) and Audrey J. Daly (Gannett Fleming, Inc.), answers questions that address legal issues faced by geoprofessionals. Learn from the panel's responses to your peers' most pressing risk management concerns, based on questions from the audience and from the most frequently asked questions submitted anonymously on the GBA survey. You're sure to end up with relevant and useful information about specific hot topics that may include proactive risk management practices, contract terms and negotiations, records retention and discovery in the Information Age, providing pro bono services, and lawsuit basics. (59 minutes)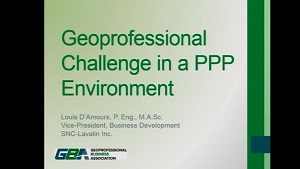 FA17-12 Risk and Challenges for Geoprofessional Firms on P3 Projects
This video is only available to members; join GBA today to watch it.
Do you have enough information on a P3 project before committing your firm's involvement? Public Private Partnership (P3) projects are complex. The model is used to deliver large capital construction projects transferring the risks (and potential rewards) from the public to the private sector. In many cases, a financier leads the project which is usually divided in two: 1) Design-Build (DB) and 2) Maintain-Operate (MO). The geoprofessional firm's role and responsibilities are vital during the project cycle, from the proposal stage to the end of the MO period. Permitting, soils, and rock conditions have a huge impact on price and schedule. Louis D'Amours, P. Eng. (SNCLavalin, Inc.) provides an overview and shares firsthand experiences and challenges with different models of P3 projects, followed by a panel of experts including William C. Siegel, P.E. (WS Group International), John E. Carlson, DBIA (Sundt Construction, Inc.) and Kenneth A. Smith, P.E. (HDR) who provide insight about how your firm can excel and make money in this complex environment with many stakeholders (large contractors, design engineering firms, financiers, MO groups, owner's representatives, and more). Gain a better understanding of how these projects are different for geoprofessionals; what you should know before starting one of these projects; and how you can position yourself and your firm and avoid losing money or getting sued for millions of dollars. (66 minutes)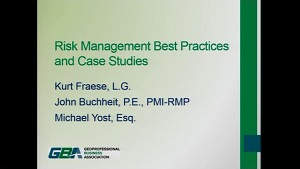 FA17-13 Risk Management Best Practices and Case Studies
This video is only available to members; join GBA today to watch it.
Join GBA member-firm representatives Kurt R. Fraese, L.G. (Fraese and Associates, LLC), Michael J. Yost, Esq. (Terracon) and John A. Buchheit, P.E., PMI-RMP, DBIA (Gannett Fleming, Inc.) as they share case studies highlighting risk management lessons learned by geotechnical professionals with perspectives about landmines you might encounter regarding technical, legal and management issues. You'll see firsthand the value GBA brings to member firms with 24/7 access to risk-management materials, knowledge-sharing and best practices with other member firms; and networking with peers to elevate the profession. (65 minutes)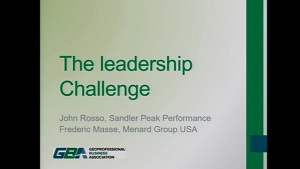 FA17-14 The Leadership Challenge
This video is only available to members; join GBA today to watch it.
What does it take to be an exemplary leader? The Five Practices of Exemplary Leadership model continues to prove its effectiveness as a clear, evidence-based path to achieving the extraordinary. It turns the abstract concept of leadership into easy-to-grasp practices and behaviors that can be taught and learned by anyone willing to step up and accept the challenge to lead: individuals, teams, organizations, and communities. John Rosso (Peak Performance Management) lays out the principles of the model: Inspire a Shared Vision; Model the Way; Encourage the Heart; Enable Others to Act; and Challenge the Process. Frederic Masse (Menard Group USA) presents Menard Group USA as a practical application case study with its low employee turnover and continual company growth. (60 minutes)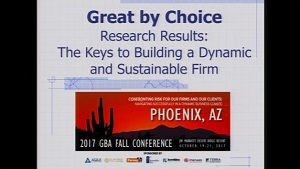 FA17-15 Great by Choice: The Keys to Building a Dynamic and Sustainable Company
This video is only available to members; join GBA today to watch it.
"Hot off the press" industry research about growth, diversification, and best practices in leading businesses of all sizes. How can you navigate the fine line between success and failure as a leader in these challenging times? This session's presentation of a combined 40 years of industry data and personal interviews with key leaders of ENR Top 500 companies will reveal the strengths and vulnerabilities of companies and how you can position yours for success. Presented by Gerald J. Salontai, P.E. (Salontai Consulting Group, LLC) and Rod Hoffman, P.E. (S&H Consulting, LLC). (52 minutes)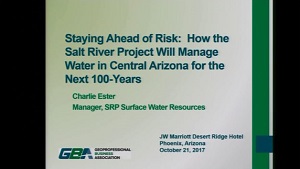 FA17-16 Staying Ahead of Risk: How the Salt River Project Will Manage Water in Central Arizona for the Next 100 Years
This video is only available to members; join GBA today to watch it.
The Salt River Project (SRP), a water and power utility in central Arizona, serves the majority of metropolitan Phoenix's water and power needs. SRP is one of the nation's first reclamation projects. Originally a vast and productive agricultural area, the Salt River Valley's desirable climate and dependable water supply provided by SRP quickly fueled an ongoing metropolitan expansion; Phoenix is now the nation's 5th largest city. This agricultural conversion to city has demanded innovation and creative adaptation to maintain a reliable and adequate water supply for the past 120 years. As identified in the recent GBA Crystal Ball Workshop, the next century will demand even greater flexibility and agility in managing our precious water supplies for the growing population. Climate change, aging infrastructure, water scarcity, droughts and floods, forest and headwater ecosystem health, and an unending burgeoning population threaten the future resiliency and reliability of water supplies. Learn from Charles E. Ester, III (Salt River Project) how The Salt River Project is committed to build upon its rich legacy of water management as it faces the next 100 years. (36 minutes)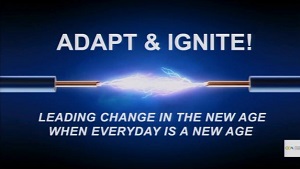 FA17-17 Leading through Change in a New Age: When Every Day Is a New Age
This video is only available to members; join GBA today to watch it.
This upbeat and interactive keynote gives you the tools you need to adapt to change faster and better, both at work and at home. The tools – new ways of thinking, feeling, and behaving – are rooted in practical wisdom, and are drawn from Dr. Gary Bradt's 30 years as a psychologist, entrepreneur, and business owner working with executives just like you: those striving to adapt to shifting government regulations, new technologies, and volatile markets, all while trying to maintain some semblance of life balance. Going through change is not a market differentiator. Adapting to it faster and better than your competition can be. (81 minutes)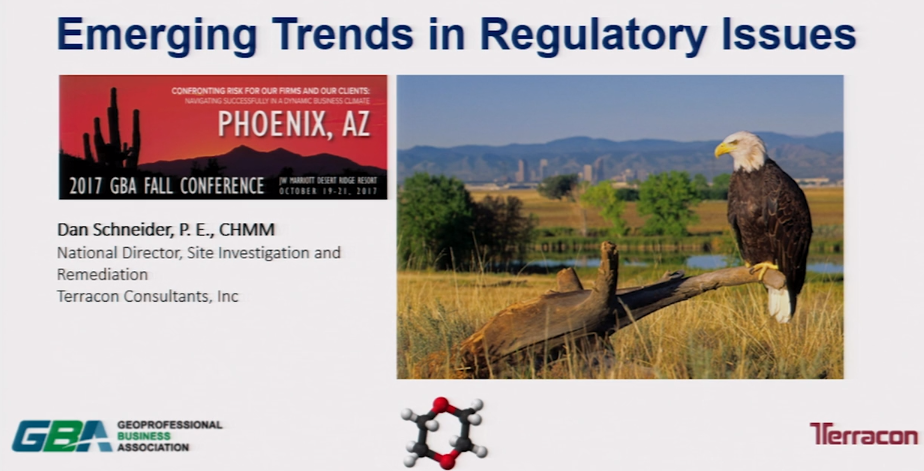 Emerging Trends in Regulatory Issues Dan Schneider, P.E.
This video is only available to members; join GBA today to watch it.
We're at a crossroads in environmental management. For 35+ years, environmental regulations have evolved into a complex set of sometimes contradictory approaches to protection of public health and the environment. As discovery of contaminants previously unknown and currently unregulated continues, we can help determine how these emerging contaminant impacts will be regulated. We'll also discuss the current administration's approach to existing and future environmental regulations, and a paradigm shift in both the scientific approach and the societal benefits, building on the past 4 decades of "lessons learned" in environmental management. (37 minutes)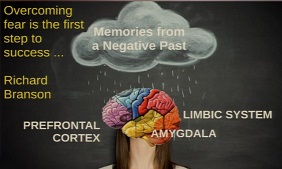 Breakfast opening session, Rick Lewis
This video is only available to members; join GBA today to watch it.
Rick Lewis has presented more than 2,500 times over the last 30 years to audiences that have included Bill Gates, President Clinton, the Prime Minister of Canada, and hundreds of Fortune 500 companies. He attributes his success to years of training in dealing with challenging circumstances and to his consulting work with both non-profits and private sector corporations. Our surprise presenter will show us how to maintain confidence under pressure, support clients and colleagues, and remain effective and committed to constructive dialogue when stressful circumstances arise. (31 minutes)