2021 Spring Conference Proceedings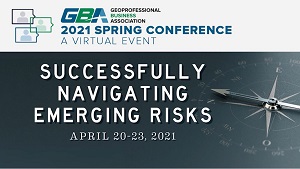 SP21-01 Opening Remarks, Business Meeting & Awards Presentation
This video is only available to members; join GBA today to watch it.
Our Opening General Session includes a welcome from GBA's Executive Director – Joel G. Carson and remarks by GBA's President – Kenneth R. Johnston (GZA GeoEnvironmental, Inc.); President-Elect Thomas W. Blackburn, P.E., G.E., F.ASCE, (Blackburn Consulting) and Treasurer – Leo J. Titus, Jr., P.E. (ECS -Mid-Atlantic, LLC). In addition, during this session GBA President – Kenneth Johnston provides the President's Annual Report, and elections and the presentation of GBA awards take place. (55 minutes)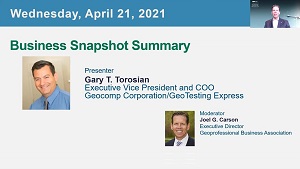 SP21-02 Business Snapshot Summary
This video is only available to members; join GBA today to watch it.
Each year when March rolls around, GBA's Business Practices Committee is in the midst of finalizing details for a short survey on the state of the economy and an assessment of the geoprofessional industry. A thank you goes out to those member-firm leaders who took the time to respond and provide their insight on the economic conditions in their region of the country. During this brief presentation, Gary Torosian (Geocomp/GeoTesting Express, Inc.) shares the combined survey results so that you can assess how your firm is performing relative to other parts of the country. (12 minutes)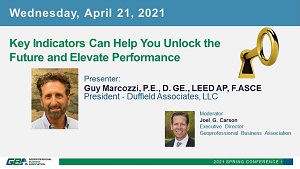 SP21-03 Key Indicators Can Help You Unlock the Future and Elevate Performance
This video is only available to members; join GBA today to watch it.
Guy Marcozzi (Duffield Associates, LLC) provides a follow-up to his 2019 spring conference Being Nostradamus presentation where he shared best practices to help keep businesses in tip top shape and discussed how monitoring key indicator trends helps leaders make proactive business decisions. Guy has been collecting data from a small group of GBA firms from well before the start of the pandemic. During this presentation, learn from Guy as he shares trends that are being observed that may help you proactively prepare for the next economic cycle and emerge stronger. (34 minutes)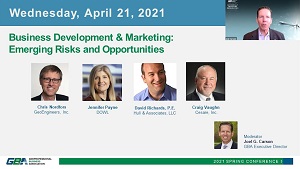 SP21-04 Business Development & Marketing: Emerging Risks and Opportunities
This video is only available to members; join GBA today to watch it.
As we emerge from a year-long challenge associated with COVID-19 we have identified several emerging risks associated with development/marketing for geoprofessional businesses. Some of those emerging risks include:
Business development and marketing remotely.
Reduced backlog due to project delays and cancellations and program funding cuts.
Client development/management in a virtual world.
Remote business development teams.
Please join a panel of business development/marketing leaders from a GBA Member firms (Chris Nordfors (GeoEngineers, Inc.), Craig Vaughn (Cesare), Jennifer Payne (DOWL), and David Richards) as they discuss emerging risks and some of the strategies they have used to manage these risks in their firms. (49 minutes)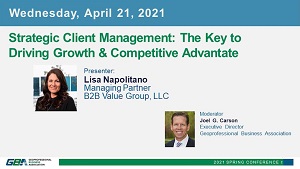 SP21-05 Strategic Client Management: The Key to Driving Growth & Competitive Advantage
This video is only available to members; join GBA today to watch it.
Lisa Napolitano shares how smart companies during turbulent economic times find ways to leverage the uncertainty and draw closer to their clients as they, too, grapple with pressure and change. Such times offer a unique opportunity to position your firm as a trusted advisor able to bring fresh ideas to the table as key decisions are being made. Firms with a deliberate Strategic Client Management approach are already well positioned to take advantage of their relationship capital and gain the client's share of mind. But it's never too late to rethink how you manage clients. In fact, now is the perfect time to invest in client relationships and demonstrate your relevance as a supplier and partner.
What's required for effective Strategic Client Management? A combination of organizational and individual competencies comprised of four main components:
The Right Strategy
The Right Clients
The Right People
The Right Collaboration
During this presentation we examine how firms can drive growth and improve competitiveness through a more focused, client-centric approach that leverages the full capabilities of the firm to bring greater value to clients. We examine 4 key components of effective Strategic Client Management and how, together, they enable the value creation posture required to position your firm for long-term success.
From this session you will learn:
How a Value Creation posture protects your firm from pricing pressures and sets the stage for organic growth
How to strategically manage your client portfolio for a greater ROI
How to enable commercial teams to operate more strategically with clients
(68 minutes)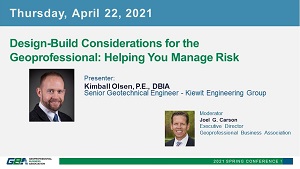 SP21-06 Design-Build Considerations for the Geoprofessional: Helping You Manage Risk
This video is only available to members; join GBA today to watch it.
Geoprofessional services in a design-build setting can provide challenges, opportunities and risks. Under the right circumstances, it can be very profitable and provide longer duration projects that are interesting and technically challenging for employees in your firm. Whether your firm already participates in design-build projects or you are considering expanding your services into alternative delivery contracts, this presentation by Kimball Olsen, P.E., DBIA (Kiewit Engineering Group) provides some insights into the main roles associated with this type of work and assists you in evaluating the risks and rewards. The major roles typically consist of being or working for the Owner, the Contractor (Builder) or the Prime Designer. There is significant variability in how these entities approach their respective roles and the approach of an entity is not always consistent across the organization or from one project to the next. Therefore, understanding these differences and being able to assess your own firm's strengths and the approach potential partners or owners may take for a project will enable you to better assess the risks and rewards and decide if a particular project or opportunity is worth getting involved in. (49 minutes)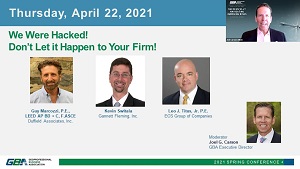 SP21-07 We Were Hacked! Don't Let it Happen to Your Firm!
This video is only available to members; join GBA today to watch it.
Mitigate the chances of your firm being hacked! Leaders from three GBA Member Firms (Guy Marcozzi, (Duffield Associates, LLC), Leo Titus, Jr. (ECS Group of Companies), and Kevin Switala (Gannett Fleming, Inc.)) share the unfortunate experience their firms went through during the time that they were hacked. You will hear and learn from a Chief Operating Officer, a President, and a Chief Technology Officer – all with thorough knowledge about their own company's cyber crisis and what steps they took to fix their situation. (44 minutes)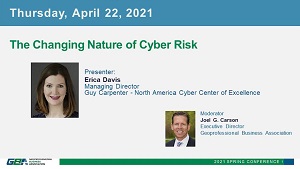 SP21-08 The Changing Nature of Cyber Risk
This video is only available to members; join GBA today to watch it.
The cyber risk trajectory continuously increases due to our society's heightened reliance on technology, expanding interdependencies, changing geopolitical landscape and a rapidly developing regulatory environment. The proliferation of ransomware and the December SolarWinds event are two recent examples of how deeply cyber exposures impact our business community. They are also two examples of how cyber risk extends beyond individual businesses to potentially become accumulated risk or affect global supply chains. The cyber risk transfer market is struggling to keep pace with how these exposures are emerging – both through the affirmative cyber offering and via mature non-cyber lines of business. Systemic risk and cascading aggregation potential are the most pressing issues for the standalone product. Silent (AKA "nonaffirmative") cyber is a newer but related concept; one that stretches across many traditional lines of business and is creating an urgent need for deeper dialogue, improved analytics and better understanding of coverage intersections. During this presentation, Erica Davis (Guy Carpenter – North America Cyber Center of Excellence) shares how cyber risk is shifting business strategies, challenging risk mitigation techniques and creating both concern and opportunity in the insurance market. We review what a cyber insurance product offers and what's still left unsolved for in the market. (59 minutes)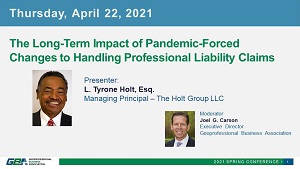 SP21-09 The Long-Term Impact of Pandemic-Forced Changes to Handling Professional Liability Claims
This video is only available to members; join GBA today to watch it.
The pandemic forced all parties involved in professional liability claims to adapt to changes in communication methods, business practices, and negotiation procedures. Mediations were virtual, "hot tub" sessions with experts were challenging to execute, graphics had to be entirely digital instead of hard copy, and the entire process was slowed as the systems adjusted. Those changes in some ways improved the process, but in many ways created limitations and frustrations. On the positive side, travel time and expenses were eliminated, but on the negative side it is much more difficult to read body language over Zoom or Teams. In some cases, the changes stirred concerns that an unfair settlement might be more likely. As the pandemic eases in 2021, we may think that these changes will all revert to the old ways, but that is not entirely true. Many of these changes will stick, whether you like them or not. L. Tyrone Holt, Esq. (Holt Group, LLC) discusses the pandemic-forced changes in handling professional liability claims, the pros and cons of those changes, and the long-term impact the industry is likely to experience. (52 minutes)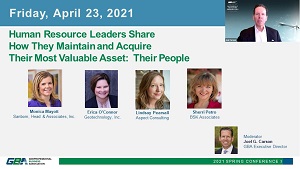 SP21-10 Human Resource Leaders Share How They Maintain and Acquire Their Most Valuable Asset – Their People
This video is only available to members; join GBA today to watch it.
Join us for this enlightening and impactful presentation by GBA Member Firm Human Resource leaders (Monica Mayott (Sanborn Head & Associates, Inc.), Erica O'Connor (Geotechnology, Inc.), Lindsay Pearsall (Aspect Consulting), and Sherri Petro (BSK Associates)) on topics essential to attracting talent, driving professional development and improving engagement while maintaining their company culture in an ever changing, fast-paced world.
Remote workforces, assignee wellbeing, the hybrid office, virtual assignments, ethical leadership, digital tracking, and the virtual reality breakthrough are some of the emerging trends human resource professionals must be aware of to keep pace in a dynamic business environment.
During this session, you will gain new insights from these leaders as they discuss: managing employee stress and burnout; effectively recruiting, hiring, and onboarding new employees virtually; elevating diversity and inclusion initiatives; and mentoring challenges and driving efficiency in a remote workforce. (53 minutes)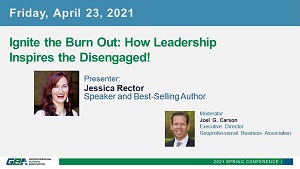 SP21-11 Ignite the Burn Out: How Leadership Inspires the Disengaged
This video is only available to members; join GBA today to watch it.
The top issues impacting individuals today are burnout and stress. Likely, one if not both of these issues have affected you or someone within your firm during the past 12 months. Burnout and stress are currently at an all-time high, and with many the home and work life is blurred and there doesn't seem to be an end in sight. Employees are feeling overwhelmed, unappreciated, and un-recognized, which decreases productivity, attitude, and performance. The #1 expense to organizations is burnout. It is an organizational and leadership issue affecting morale and bottom-line results. Research shows even the "best place to work for" Google has 53% burnout. Have you considered how much employee burnout is really costing your firm? Learn from Jessica Rector, MBA (JessICAREctor Enterprises) as she shares her research and shows how your organization can proactively anticipate burnout, how teams can stop stress from spreading to other work and life areas, and how leaders can ignite, motivate, and empower employees to build resilience, create a thriving culture, and tackle risks, uncertainty and challenges without burnout. (60 minutes)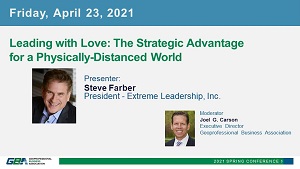 SP21-12 Lead with Love: The Strategic Advantage for a Physically-Distanced World
This video is only available to members; join GBA today to watch it.
From the bestselling author of The Radical Leap comes the first keynote to directly address love as a hard-core business principle that generates measurable results – now more than ever. Over the last 10 years, the business world has spent close to a trillion dollars on leadership development; yet 73% of people are still disengaged in their work. 10 years ago, that number was 70%.
Something is dreadfully wrong. Steve Farber (Extreme Leadership) has learned that the solution is to do something more radical, something extreme.
Operationalize love as a core business practice. To be clear, this isn't about group hugs in the elevator. This isn't about love as a sentiment; it's about love as a discipline, as a practice. When love is part of an organization's framework and operationalized in its culture, employees and customers feel genuinely valued. Employees who are passionate about the work that they do are more loyal, innovative, creative, and inspired, and that translates to great customer experience. They don't serve others out of obligation, but because of a genuine desire to improve people's lives. And when customers reciprocate by loving your products, your services, and your people, that's when something great happens. That's when you get loyalty. That's when you get raving fans, and that's where the money comes from. It's a refreshingly human way of doing business.
Drawing on his work with a wide variety of companies from the Fortune 100 to smaller, entrepreneurial ventures, renowned leadership expert Steve Farber shows you proven strategies, shares inspiring case studies, and teaches practical steps on how to build a corporate culture that operationalizes love as a significant competitive advantage. (92 minutes)