2023 Photo Contest Winners Announced
GBA is committed to promoting the value of geoprofessionals and for our 2023 photo contest we asked members to share: "How do you depict a day in the life of a geoprofessional?"
Sixty photographs were submitted this year and through the images captured, the pride of geoprofessionals was on full display. We think you'll agree: These vibrant photos capture members in field activities, meeting with colleagues and clients, and observing safety in some amazing locations.
All winners' photos will be featured during the 2023 Fall Conference in October.
Thank you to everyone who submitted photos this year!
                                                                                                   Grand Prize Winner
Photographer: Jack Powell, PBS Engineering and Environmental Inc.
Location: Salt Creek Falls, Lane County, OR
Caption: PBS Engineering and Environmental Inc. (PBS) teamed with Bratslavsky Consulting Engineers, Inc. to support the US Forest Service in evaluating and designing improvements to the Salt Creek Falls day-use area. This included characterizing subsurface conditions to develop recommendations for anchoring new handrail posts at the main waterfall viewpoint area as some of the existing, wooden posts had begun to decay. PBS also helped develop recommendations for mitigation of localized erosion beneath the pedestrian railing just beyond the waterfall overlook. Due to the late season snow and limited access, PBS subcontracted with PLI Systems of Hillsboro, Oregon to use a small drill rig capable of maneuvering in tight spaces that was able to collect rock core.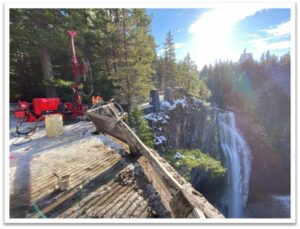 Overall Runner-Up
Photographer: Gyan Bade, Hillis-Carnes Engineering Associates
Location: Frederick, MD
Caption: This is a picture from The Frederick News-Post job site. Early morning concrete pour; 370 cubic yards.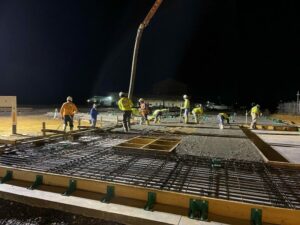 Category Winners
                                                                                                            Safety Category
Photographer: Sam Venable, P.E., Earth Systems
Location: Santa Barbara Airport, Santa Barbara, CA
Caption: Geotechnical engineering investigation and recommendations provided for development of project plans and specifications for the planned improvements of Santa Barbara Airport taxiways.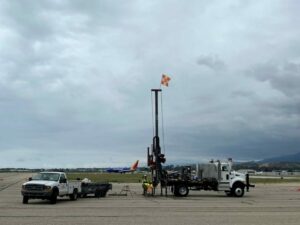 Client Collaboration Category
Photographer: Will Jones, G.I.T., ENV SP, ANS Geo, Inc.
Location: West Camp Wind Farm, Holbrook, AZ
Caption: Discussing the day's work as the sun sets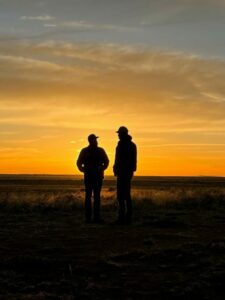 CoMET Category
Photographer: Luke Morrell, P.E., Blackburn Consulting
Location: Folsom Lake EID Intake Project, Folsom Lake, CA
Caption: Installing drilled shaft piles through rock to support a new intake pipeline.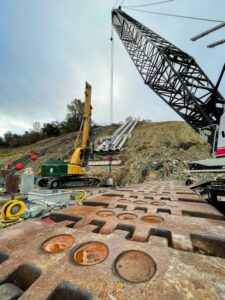 Environmental Category
Photographer: Torre Davy, Sanborn, Head & Associates, Inc.
Location: Hoosic River, Adams, MA
Caption: Surface water sampling in the Hoosic River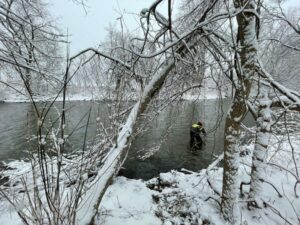 Geotechnical Category
Photographer: Bruce Jackson, Jorgensen Geotechnical
Location: Jackson Hole Mountain Resort, Rendezvous Mountain, Jackson, WY
Caption: Geotechnical drilling to assess rock quality at the top of the aerial tram at Jackson Hole Mountain Resort.