4th Friday 40 July 22, 2022 Webinar

You are invited!
GBA's 4th Friday 40 Leadership Series
4th Friday 40 Leadership Series is a monthly webinar for GBA leaders at all levels to promote professional development, optimize influence, and facilitate achievement. In short, we want to help you to be a stronger, smarter, more successful leader.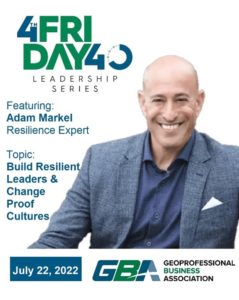 Register in advance to secure your spot: HERE
Join our experts for a 40-minute webinar as they share valuable insights to help you be more confident, highly effective, and a more successful leader. Attend and earn one-half of a Professional Development Hour (PDH) for each webinar. Free to all GBA Members.
On July 22, 2022, our featured speaker will be Adam Markel, Resilience Expert as he discusses how we can build resilient leaders and change proof cultures.
Put the 4th Friday Leadership on your calendar and invite your friends and colleagues to join you. After registering, you will receive a confirmation email containing information about joining the webinar.