4THFRIDAY40 LEADERSHIP SERIES FEBRUARY 24, 2023
GBA Multimedia Delivery Committee
4thFriday40 Leadership Series is a monthly webinar for GBA leaders at all levels to promote professional development, optimize influence, and facilitate achievement. In short, we want to help you to be a stronger, smarter, more successful leader.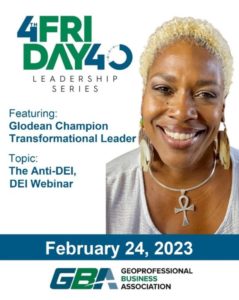 In this edition, we will be joined by Glodean Champion. Glodean Champion is a Transformational Leader who specializes in personal growth, leadership development, and diversity, equity & inclusion (DEI). She works with individuals and organizations to get to the root cause of culturally based challenges by transforming beliefs, behaviors, and assumptions. Glodean's unique approach to this centuries-old endeavor is rooted in the practice of engaging with people's core emotions, cultural competencies, and situational and self-awareness through coaching, training, and workshops. She believes in meeting people "where they are" and leading them where they want (or, possibly, need) to be.
This session, titled "The Anti-DEI, DEI Webinar" is designed for leaders of all levels. Join us as Glodean Champion reviews the basic concepts and topics of diversity, equity, inclusion, and bias and why they don't work, long-term, without a strong foundation of L.O.V.E. and CARE. Participants explore how implicit attitudes and socializations impact our decisions and the interactions we have with one another. By the end of this foundational session, participants have the power of self-awareness and the importance of connection in the workplace and beyond.
Attend and earn one-half of a Professional Development Hour (PDH) for each webinar.
Free to all GBA Members.
Register for 4thFriday40 Leadership Series: HERE