4thFriday40 Leadership Series – November 18, 2022
Multi-Level Leadership: Stop Waiting, Start Leading
E. Lynn Price is a speaker, author and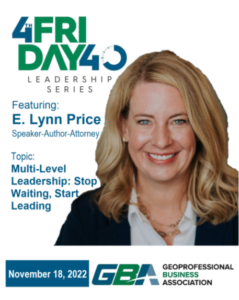 attorney with over twenty years ofexperience providing creative business solutions to clients and executives. Over the last two decades, she has successfully negotiated over 11,000agreements and counting.
Lynn will emphasize, leadership is not a position, it's a mindset! It's looking for opportunities to influence others. Multilevel leadership means leading your peers, your superiors, people outside of your organization, and those within your community – not just your subordinates. Don't wait to get a new title or a new position to start being a leader. Instead, learn how to focus on leadership opportunities that are surrounding your right now.
4thFriday40 Leadership Series is a monthly webinar for GBA leaders at all levels to promote professional development, optimize influence, and facilitate achievement. In short, we want to help you to be a stronger, smarter, more successful leader.
Attend and earn one-half of a Professional Development Hour (PDH) for each webinar.
Free to all GBA Members.
Register for 4thFriday40 Leadership Series: HERE