A Letter from GBA's President Art Hoffmann
Dear, GBA Members.
We are living through unprecedented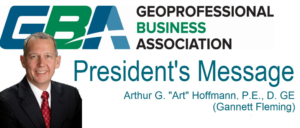 times. Family, loved ones, friends, employees, co-workers, neighbors,society are foremost in our minds at this time. We're also very concerned about our livelihoods, our firms and the economy. I realize that GBA is a very minor item in a world in which such important things are brought into such sharp focus.
I send you this brief message to let you know that the Board of Directors of GBA and our wonderful staff are thinking about all of you today. We're also doing everything we can to make sure that GBA remains a strong organization and that we continue, to the best of our ability, to provide value and help you address risk and business performance In that regard, we will continue publishing important reference material, updating our website, and plan to deliver key elements of the 2020 Spring Conference virtually. Additionally, we will continue working together to connect with our members and manage our Association efficiently.
Please take the advice of the experts and follow all the recommendations and directives that have been shared with us over the last few weeks so we can all come through this safe and healthy and together.
Looking forward to raising our glasses in a huge toast with all of you this October in Minneapolis for GBA's 2020 Fall Conference!
Be Safe and Healthy
All the best wishes to you all