A Seed that Was Planted Early Blooms into a Flourishing Family Business
GBA Director Spotlight: Tom Blackburn, CE, GE, F. ASCE, F. ACEC
I grew up on 12 acres in St. Louis, Missouri. I rode dirt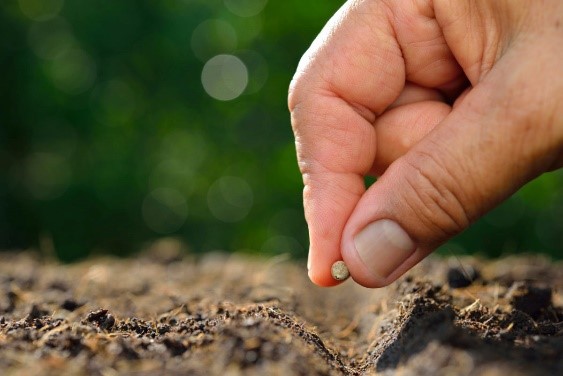 bikes, jumped on the trampoline, played roller hockey,basketball, tennis and baseball. I also spent as much time as possible on my grandparents' farm hunting,fishing and working hard. My passion for being outside drew my interest toward becoming a forest ranger but my Dad, who owned a small construction company, recommended that I become a civil engineer and eventually take over the family business. Although I did not join that family business, his example planted a seed in my mind that eventually bloomed into a family business of our own.
I attended the University of Missouri at Rolla, now Missouri University of Science and Technology and loved the whole college experience. I was active in the TKE house but mostly just getting through college courses until my senior year, when I discovered soil engineering. With the support of my parents, I stayed at Rolla and earned a master's in civil engineering. Soil and materials engineering fueled my passion and I transformed into a pretty good student. I remember my Dad asking "will people hire you for that?" because in the early 80's, soil engineering was still maturing, and geo-environmental engineering was in its infancy.
After graduation, I moved to Texas to work for GBA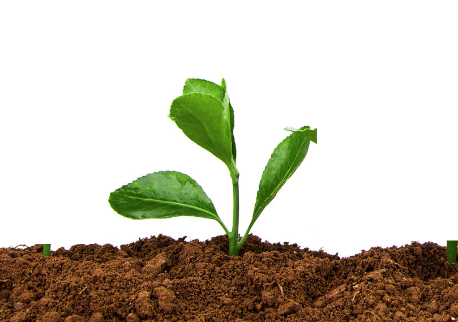 Member-Firm Alpha Testing. Although my Dad was disappointed that I didn't come home and run the family business, my parents were proud that I was working hard and enjoying my new career. I started in the field, then moved into the office and worked for long hours. After working for three years, I was given the opportunity to open an office for Alpha in Fort Worth. I am grateful to the Alpha folks for teaching me about the technical work and fueling my desire to grow a consulting business.
In 1987, Cupid struck when I met Grace. She wasn't very interested at first, but I was persistent, and eventually won her over.
In 1988, Grace and I made plans to marry which included a move to Northern California where she grew up, and I was eager for a new adventure in the Golden State. I began my next chapter with Anderson Consulting (another GBA Member-Firm) and I loved the more challenging work associated with California's complex geology and seismicity. Simultaneously, I started my GBA journey and became entrenched in loss prevention with the support of Gery Anderson and David Coduto (Terra Insurance Company) to whom I am eternally grateful.
In 1998, Grace and I planted the seed my father had put in my head many years earlier and we started our own firm, Blackburn Consulting, with the goal of focusing our efforts on public works projects and forensics. We were not interested in rapid growth, but rather on building a family business focused on engineering excellence. That concept
worked for us, and in 20-years we've gradually built an outstanding team and a firm with a reputation as a high-quality consultant. We have been blessed to work with wonderful people on challenging projects, and I consider it an honor to work in our profession.
GBA has been invaluable to Blackburn Consulting's sustained success and in our early days we were regular conference attendees and active committee members as our business and our family grew. Our kids regularly attended GBA meetings with us and all have fond memories of the wonderful people they met and cool places we visited. Now, our family continues to be close and our business continues to include family members with our oldest son Donald, recently joining Blackburn Consulting as our Business Manager. GBA is also a family affair as Donald has joined the Emerging Leaders Class and Grace is active in the Peer Review Committee.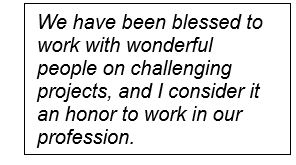 My father planted the family business seed many years ago. My passion for soils engineering and our desire to provide high-quality  consulting services provided a platform for Grace and me to build our family business. Loss prevention and  GBA's resources around that topic helped us to grow our business and continues to be integral to Blackburn Consulting's success.