Blazing a Trail on the West Coast
By: Carrie Foulk, P.E., G.E. (BSK Associates)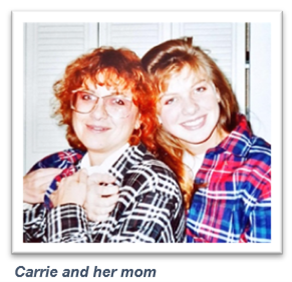 I grew up crisscrossing the West Coast from the San Francisco Bay-area to Salem, Oregon, to Fresno, California to Seattle, Washington. As I watched my single, working mom navigate the world in the '70s and '80s, I knew I could be anything I wanted to because she emulated that for me. There was never a question of if I could be a professional one day.
As a child, I was interested in art, science, sports. I was good in school and really enjoyed my STEM classes. I played a lot of basketball in middle and high school, which I was never very good at.
Now, my daughter's a college sophomore and my son is a high school senior. Despite both their parents being engineers, neither of them chose to pursue that career, so I'm not sure what that says! My partner and I live in Livermore, California – an interesting place with about 50 wineries and two nuclear weapons laboratories. We've got a large number of PhDs and a large number of cowboys.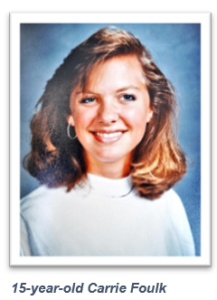 At this time in my life, I do spend a lot of time working, but in my spare time, I read, exercise, walk my dog, watch local sports teams, listen to podcasts, and announce at my son's lacrosse games.
Carrie's Journey to Geotechnical Engineering
My sometimes-circuitous path to becoming the geotechnical engineer I am today started when I was a junior in high school. I took a chemistry class that got me jazzed about how the world worked and I thought I wanted to be an environmental engineer because I wanted to save the planet.
I attended a community college in the San Francisco Bay-area for two years, which was an amazing experience. I'd recommend it to anyone. Everything I did there transferred to an engineering degree at the University of Washington in Seattle. I rowed crew there (where I found I enjoy suffering) and I got my civil engineering bachelor's degree. After taking a few classes in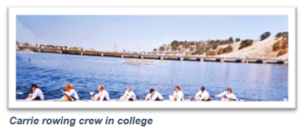 environmental engineering where we talked a lot about waste – in particular, human waste – I decided I wasn't as interested in pursuing environmental engineering anymore and set my sights on becoming a structural engineer.
Straight out of school, I obtained a job in that field with Boeing, where I worked for a little over two years. Enter the waypoint of my journey into geotechnical engineering: New Mexico. With my then-boyfriend's new job, I had to decide if I was going to move, too, and if I wanted to stay with structural engineering. I said yes to the move and no to the structural.
I sought input from a friend in the geotechnical engineering field and with her assurance that she enjoyed it, I discovered Kleinfelder, who happened to be hiring in the sparse geotechnical landscape of Albuquerque. My interview with Kleinfelder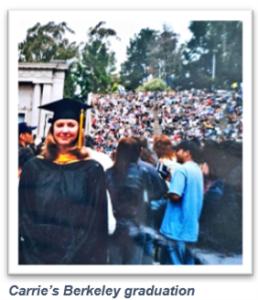 was fairly comical because they asked me two questions that I had zero answers for: 1) What's an Atterberg limit? and  2) What's an R-value? It had been close to five years since I had taken my geotechnical classes in college. So, I said, "I don't remember, but I promise I'm a fast learner." And they hired me! Our stint in New Mexico lasted only 10 months, after which we moved to the San Francisco Bay Area. I stayed with Kleinfelder and liked geotechnical engineering enough that I decided to pursue a master's degree in the field, which I attained at Cal Berkeley.
After I had my second child, I stepped fully into the role of stay-at-home mom. I did some consulting in the meantime and kept my toe in the water by staying in touch with contacts. By the time my youngest was starting kindergarten, I got a timely call from Kleinfelder asking if I wanted to come back to work.
So I tiptoed a little further back into the field, working part-time while the kids were at school. I was able to jump back in and I felt like I didn't really miss a beat. I eventually received an offer from my current firm, BSK Associates, that I couldn't refuse, and I started part-time with them as well. As the kids grew older, I was able to return to full-time work. I'm currently a geotechnical group manager for a small but mighty group in Livermore and technical lead for a team of about 30 people company wide. One funny thing about my current role is that I actually mentored my current boss ages ago when we worked at Kleinfelder.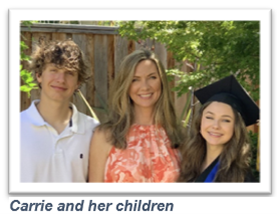 I feel it's important to share that I was a stay-at-home mom for six years and it was fine. Women always tell me they feel like they can't stop, and they can't have kids, and it would be looked down upon, etc. But I did it. And if you're a good employee, they'll want you back.
Advice to New Geoprofessionals
Some advice I'd give to geoprofessionals who are new to the industry is:
• Be open to new experiences. Don't be afraid to get dirty.
• Don't ever be intimidated by being the only woman in the room or being the youngest person in the room. Exude confidence.
• Never be afraid to ask questions. You'll learn something new every single day if you're open to it.
• Keep your mind open and look for the lesson learned in every task, even and maybe especially the ones that seem "menial." You might not be able to see the lesson until it's over.
Some of the best clients are born from difficult situations if handled correctly. I learned this from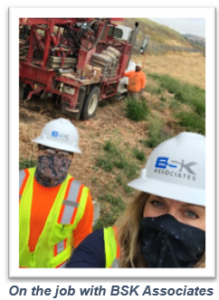 GBA Executive Director Joel Carson when he worked at Kleinfelder. He was the face to a lot of clients and he was the one who would get yelled at when things went wrong. So, he made some valuable clients through his handling of those difficult situations and that's held true to this day:
If you handle it correctly, those things that keep you up at night can actually make you the hero.
Impact of GBA
What really encapsulates how GBA has impacted me is that it has broadened my perspective of what it means to be a geotechnical engineer. Being involved with GBA has helped reinforce that it's not just about the technical work, it's about being a consultant and a trusted advisor.
Also, the resources provided by the GBA are so useful to my entire company and especially the younger staff to help give them that broader sense of what it means to be a geoprofessional. Selfishly, it's given me amazing contacts in the geoprofessional industry. I have met people I never would have met, and they've been key in forming me as a leader.
Getting involved with GBA and making presentations at their events helps set you up as an industry leader and it will get you recognized by others in the industry, which will open doors to incredible opportunities.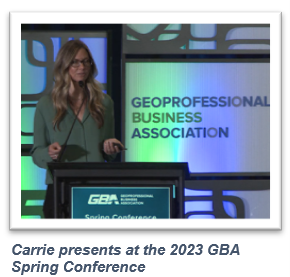 My last piece of advice to all those reading this is simple, but heartfelt: Get involved and stay involved with GBA.
You never know where it's going to take you.