Call for Abstracts "Optimizing Performance by Leading from the Heart"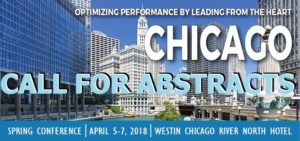 CALL FOR ABSTRACTS
"Optimizing Performance by Leading from the Heart" 
2018 Spring Conference – April 5-7, 2018
Westin Chicago River North Hotel – Chicago, IL
 GBA IS LOOKING FOR INSPIRING SPEAKERS!
 Are you a dynamic, engaging, inspiring speaker with something valuable to teach industry leaders involved in the Geoprofessional Business Association? If so, we'd love to receive an abstract submission from you for our upcoming conference in Chicago, IL. There, 150+ senior leaders of GBA-Member geoprofessional firms will gather to network, share best practices, and improve their business performance and elevate their industry.
 The Conference Theme: 
Optimizing Performance by Leading from the Heart 
As GBA convenes in Chicago, IL for our 2018 Spring Conference, we will focus on helping those in attendance to recognize that exceptional leadership requires we lead from our hearts.
Business owners who genuinely lead with their heart — not just their head — are also more equipped to connect with the emotional needs of employees. They understand that people have the need to be valued, respected, listened to and involved. By acknowledging and honoring the human element, heart-centered leaders possess the wisdom and capacity to positively transform any organization and run extremely successful and profitable businesses.
Our Conference will include presentations on subjects that will help our members to embrace a heart-centered approach to business and recognize true power means listening to and from the heart and having a commitment to humility.
 How You Will Benefit
For almost half a century, GBA's twice-a-year conferences have been the place to engage senior business leaders of the geoprofessional industry. You will gain visibility and credibility; create important new relationships; and generate valuable awareness of your expertise in our industry.
 Download Here:  CALL FOR ABSTRACT FORM