Case History # 101 Updated
Case History #101, the last of the archived real-life stories of member-firms' projects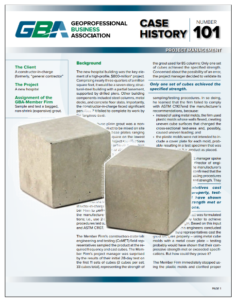 that went wrong and how they overcame problems
is now available.
When a GBA-Member Firm realized it had committed a serious error while conducting construction-materials engineering and testing (CoMET) services for a new hospital building, it knew it was in trouble. The project – a 738,000-square-foot hospital – was the key element of a high-profile, $800-million project and the constructor-in-charge faced significant penalties if it failed to complete its work by the targeted date. The errors made by the CoMET firm were likely to cause a significant delay that would result in major penalty payments, plus a serious cost overrun, all of which the GBA-member CoMET firm feared it would have to pay for. Applying what it had learned from GBA, however, the firm not only avoided even a moment's delay, it emerged from the project with an even stronger reputation for excellence.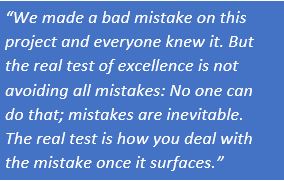 Learn from others. Don't repeat the mistakes of the past! GBA Case Histories are being used              by  our members for loss prevention discussions in support of professional development and                      mentoring. That is why GBA case histories are so valuable, and why GBA is updating them all,                    while adding new ones, too.
GBA Case Histories are FREE to all Members.
Download Case History 101: HERE