Ethics and Professional Conduct Training Program Available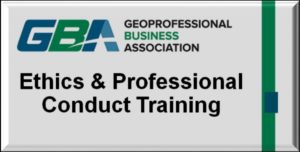 GBA's Business Practice Committee has compiled information from several GBA Member Firms to develop a complete Ethics and Professional Conduct Training.  The materials have been developed for GBA member firms so that they can perform comprehensive ethics training for all employees in small, manageable parts that will enhance discussion and retention.  The four-part PowerPoint presentation and support information consist of the following:
Part 1 – Introduction to Ethics
Part 2 – Codes of Ethics
Part 3 – Ethical Decision-Making Guidelines
Part 4 – Business Conduct
This training is recommended to be facilitated by a Senior Leader within your firm, and can be performed in a lunchtime learning environment or in small group settings.