From the Archives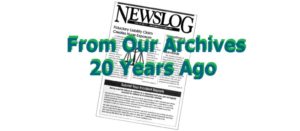 From the Archives – GBA 20 Years Ago
As we start planning for the kick-off of GBA's 50th anniversary in May 2019, we are dusting off files, opening storage boxes, and reviewing our archives.  One of the most interesting finds are the boxes of historic NEWSLOGs (currently titled NEWSlog).  This discovery prompted us to see what was happening 20-years ago in our association.
NEWSLOG Volume 27, No. 3 from September/October 1997, included discussions on:
fiduciary liability claims,
ASTM Standards,
contract guides, and
writing right.
We were also warning members about El Nino and we were battling with the Consulting Engineers and Land Surveyors of California (CELSOC) against a California ballot initiative sponsored by the Professional Engineers in California Government (PECG) that would exclude private companies from winning state and local contracts in California.
Many of the issues discussed in the 1997 issue of NEWSLOG were items on which GBA built a foundation.  They are also issues which still require our unified support so we can continue be the preferred source of business-educational resources, specifically risk management and business performance optimization, for geoprofessional firms.
Throughout our almost 50-years, GBA has helped its members and their clients confront risk and optimize business performance by delivering unique professional resources, programs, and services that make them stronger, smarter and more successful.
To read NEWSLOG from September/October 1997 – READ HERE