GBA and G-I Are Working Together to Benefit You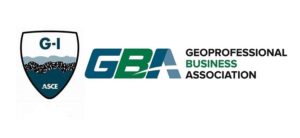 By Laura Reinbold, GBA President (Terracon)
"Let's Work Together. GBA and Geo-Institute are collaborating for our profession." That was the message GBA President Laura Reinbold took to the first-ever Geo-Institute (G-I) Summit for Local Chapter Leaders a few weeks ago. Attending at the request of G-I President Kord Wissman, Laura put a face to GBA that connected those in the room to our association in a personal way, some for the first time.
Laura began her address to the G-I group with a question: "How many of you know that GBA and G-I have a Memorandum of Understanding?" The same question could also be asked of our GBA members. The MOU has been in effect for over a year and it pledges that the two organizations will explore ways to work together to serve our geoprofessional constituents, promote each other's organizations, and collaboratively support the goals that we strive to accomplish.
So what has this collaboration looked like this past year? GBA/G-I co-branded presentations at local G-I chapter meetings, which were facilitated by a GBA speaker. GBA's External Relations Committee (ERC) has spearheaded two test runs, providing "Contract Negotiations" in Seattle and "The Importance of Culture on Ethics" in San Antonio. ERC now has five presentations in GBA's developing library of co-branded presentations and is developing more. Feedback on the presentations has been overwhelmingly positive, as illustrated by this quote from Joseph A. Waxse, PE, D.GE.
"This Spring, Phil King, P.E., D.GE delivered one of the best 'Ethics' qualified lectures we've ever had at our Geo-San Antonio conference. Hats off to the GBA for developing and sharing that presentation. Highly entertaining and relevant – KUDOS!"
Regionally and nationally, G-I and GBA will have attendees at our respective conferences, speakers and panels at conventions, and will promote conversations between our two Boards of Directors.
Working on a local, regional, and national level with G-I will greatly expand GBA's mission: to be the essential business resource to geoprofessionals and a resource to our member-firms; helping our firms, our employees, and our clients confront risk and optimize performance. It is yet another opportunity to showcase GBA and the four decades of educational materials we have developed for the business needs of our members.
Working together we can do more.