GBA Model Contract Set Updated!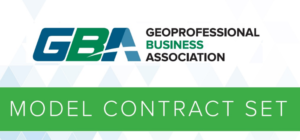 GBA Legal Affairs Committee
The GBA Model Contract Set is available as an on-line download. The set comprises five model contracts and a comprehensive users' guide. The five model agreements are presented in both PDF and WORD versions.
This set consists of three groups of forms: one group of prime agreements and two of subcontract agreements. The two subcontract groups allocate risk differently between the parties: one allocates it asymmetrically – favoring the prime contracting party, while the other allocates it symmetrically – favoring neither party over the other.
Prime Contract Forms. This group consists of agreements between the Consultant engaged directly by an owner or other client entity other than another, higher-tier Consultant.
Prime Subcontract Forms. The agreement in this group is appropriate only for use by GBA Consultants in the role of prime when engaging another firm as subconsultant or laboratory. These agreements allocate risk asymmetrically to favor of the Consultant relative to the Subconsultant or Laboratory. Thus, GBA firms should not use any agreement from this group when they are in the role of Subconsultant or Laboratory Driller.
Symmetrical Subcontract Forms. The agreements in this last group do not re-allocate risk in favor of any party. Thus, these agreements are equally appropriate for GBA firms to use regardless of whether they are the prime Consultant, or the Subconsultant, Laboratory, or Driller engaged by the prime firm.
These contracts help you manage risk and are especially useful if your firm does not have in-house counsel.
A special thanks to Andrew Batson, Esq. (Sanborn Head & Associates) for his tireless efforts to update these documents and to GBA's Legal Affairs Committee for their support.
Download Note: This item is downloadable. After completing the purchase of this item, click on "My Transactions and Product Downloads" to download this file.
Download GBA Model Contract Set: HERE