GBA Releases Five More Case Histories: 31-35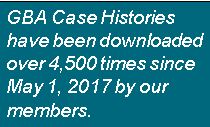 GBA Releases Five More Case Histories: 31-35
GBA Case Histories are being used by our members for loss prevention discussions in support of professional development and mentoring.  They are also being used in universities to bring "real-world" lessons into the classroom.  Those who fail to learn the lessons of history are condemned to repeating mistakes of the past which is why GBA case histories are so valuable, and why GBA is updating them all, while adding new ones, too. Five more case histories have been issued.
CASE HISTORY NO. 31 (download)                  
An architect requested a proposal from the geotechnical-engineering firm whose office was next door to the site of a proposed newspaper plant. The architect selected another firm because it offered a lower fee, but the firm was far less experienced. The owner ultimately paid a $40,000 construction cost premium in order to save $600 in engineering fees.
CASE HISTORY NO. 32 (download)      
A civil engineer failed to follow a geotechnical engineer's recommendation in order to save several hundred dollars. The geotechnical engineer took appropriate defensive measures as a result of the corner-cutting, and thus did not have to contribute to the $125,000 cost overrun that ultimately had to be paid by the civil engineer.
CASE HISTORY NO. 33 (download)      
The pressure of business forced a Member Firm to assign a somewhat new field representative to observe construction being performed by a tricky, problem-prone contractor. After initial problems evaporated, the project proceeded without a hitch. The Member Firm later learned that the field representative had been bribed.
CASE HISTORY NO. 34 (download)                  
The owner's desire to save a relatively few dollars on a fast-track project resulted in innumerable problems and cost overruns. The Member Firm learned that it is sometimes necessary either to force proper procedures on others or to pay the consequences.
CASE HISTORY NO. 35 (download)                  
A $4,000, 17-day project was performed well, but the warning in the report could have been stated more strongly, especially so because follow-up contact was not maintained. The result: The Member Firm had to pay an $20,000 legal bill to prove it should not have been sued in the first place.
Access all GBA's Case Histories HERE