GBA Supports ICC Code Change
The Geoprofessional Business Association (GBA) recently provided testimony to the International Code Council (ICC) to support a proposed change to the 2024 edition of the International Plumbing Code (IPC). The proposed code revisions would change how sanitary sewers are designed and constructed in areas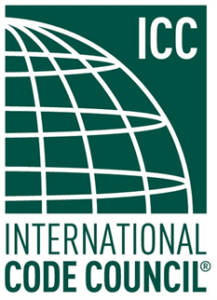 with expansive clay soils. The changes would reduce the risk of sewer failures and thereby reduce the professional liability exposure for consulting geotechnical engineers. The proposed code changes, which are referred to as Proposal P8-21 by the ICC, were initiated by the Structural Engineers Association of Texas and are also supported by the American Institute of Architects and American Council of Engineering Companies (ACEC) of Texas. GBA's testimony was provided virtually by Mr. Steve Wendland, P.E, R.G., DGE of GeoEngineers, Inc., as shown in the screen shot below. Steve serves on GBA's Board of Directors and has significant experience in the topics addressed by the proposed code revisions.
After the testimony on April 25, 2021, the proposed code changes were approved by the Code Committee of the IPC by a 10 to 4 margin. Next, the proposed code changes will be open for public comment, those public comments will be reviewed by Code Committee later this year, and then the ICC will vote on the final changes. The recent approval by the Code Committee is a significant assurance that these revisions will be included in the 2024 IPC, but the remaining review processes could still result in their disapproval.
For sites with expansive clay soils, the proposed changes would eliminate some sanitary sewer design and construction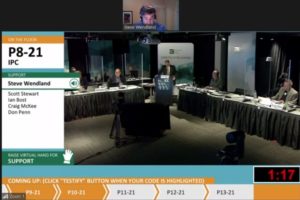 methods that have had a high failure rate. These sewer failures have led to expensive repairs and frequent litigation, including claims against geotechnical engineers like the project that is summarized in GBA Case History #108. A new Section 305.8 of the IPC would be created that would prohibit plumbing, hangers, or supports below a floor slab to be in contact with soil or any materials that are in contact with soil. Also, it would prohibit lifting of a slab and plumbing as an assembly to create the void space unless the under-floor space is a crawlspace with access to allow inspection of plumbing after lifting. More details can be found on the ICC website , search in the Group A changes of the IPC.
Steve Wendland testifies to International Code Council.