GeoGirl Comic Book Available Free to GBA Members!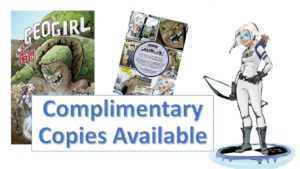 Engineering and cycling may not seem to have a lot in common, but for Andrew Murray of Murray Engineers Inc., the two were a perfect combination.  His passion for both sparked the idea for a unique and witty comic book series involving a new super heroine, GeoGirl.  A story about  the epic battles between Mother Nature's geohazards and humankind's ingenuity to suppress them, GeoGirl uses her uncanny ability to sense unstable earth conditions to combat geologic hazards and save the world from catastrophic disaster.
The comic book's title was born from the fact that Murray, an avid cyclist himself, sponsors a group of female mountain bikers who ride all over northern California.  Their team name – you guessed it – Team GeoGirls.  In Issue No. 1, GeoGirl battles an all-too-common foe of hillside property owners, the landslide.  Cleverly titled GeoGirl vs. Lance Lied!, Murray notes that any resemblance to former professional cyclist Lance Armstrong is purely coincidental.
Murray has graciously offered complimentary copies of GeoGirl to all GBA members.  A creative and valuable tool, the comic book's focus is to generate an interest with elementary-aged students in the geoprofession.
Murray Engineers Inc.'s GeoGirl vs. Lance Lied! is available to members now!
Sneak Peak: Issue No. 2 involves GeoGirl battling it out with villain, Big Fat Clay!