Geotechnical Business Council Publishes "Can't You Come up with a Cheaper Alternative?"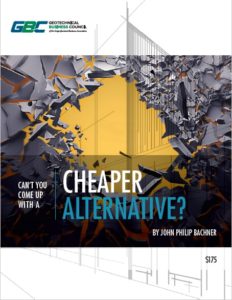 "Can't You Come up with a Cheaper Alternative?" is the candidly descriptive title of a new publication developed by the Geotechnical Business Council of the Geoprofessional Business Association (GBA).
In his introduction to the new guide, Geotechnical Business Council Chair Richard D. "Rick" Heckel, P.E., D.GE (Ardent Geotechnical Consultants) points out that geotechnical engineers are more likely to hear "Can't you come up with a cheaper alternative?" than other members of the design team. He also states, "'Can't you come up with a cheaper alternative?' is not an unreasonable question….Nonetheless, in an effort to accommodate client representatives' preferences, [geotechnical engineers of record or] GERs will all too often acquiesce to changes (often suggested by other project participants) that create new and sometimes-severe risks. Later, after those risks materialize into full-fledged problems, GERs get blamed and ultimately have to deal with professional-negligence, breach-of-contract, and similar claims, commonly because they failed to issue a written warning about the new risks pursuing the alternative would entail."
The booklet's six chapters provide guidance geotechnical engineers can apply to help deal with the risks responses to "Can't you come up with a cheaper alternative?" can create. Chapter titles are:
 "Using a Group-By-Group Approach, Educate Client Representatives, Prospective-Client Representatives, and   Those Who Influence Them";
 "Educate Clients and Their Intermediaries on a Case-by-Case Basis";
 "Develop a Contract Provision";
"Do What Professionals Are Supposed To Do";
"Recommend Value Engineering"; and "Be Prepared."
Authored by John Philip Bachner, the guide points out that, "with few exceptions, GERs have already considered the 'cheaper alternatives,' and have rejected them, because the risk they entail makes it extremely difficult to achieve risk/reward balance [for the client]." As Bachner also notes, "More construction problems arise from subsurface issues than any other source." In the chapter titled "Do What Professionals Are Supposed To Do," Bachner writes, "If the client insists on applying an alternative that would create unacceptable risks…the GER would be forced to object in writing and, possibly, withdraw from the project. True: Doing 'the professional thing' might cause you to lose a client, but – were the risk to materialize – you'd probably lose the client and a lot of money 'to boot,' not to mention the two or three years (or more) of frustration and aggravation you'd experience."
"Can't You Come up with a Cheaper Alternative?" is available at $175 per copy; members receive it free, as part of their membership. Order it from the GBA website.
Established in 1969, the Geoprofessional Business Association is widely regarded as geoprofessionals' best source of comprehensive business guidance. GBA serves geotechnical engineers, environmental professionals, civil engineers engaged in a variety of specialties, and construction-materials engineering and testing professionals, among other geoprofessionals. GBA is well known for creating innovative programs, services, and materials to help its member firms thrive by confronting risk and optimizing performance.
All GBA Member Firms' technical activities are under the full-time control of an individual who is legally and/or ethically bound to hold paramount public health, safety, and welfare. GBA's associate membership comprises geoprofessional constructors; geoprofessional educators; geoprofessionals employed by government agencies, not-for-profit organizations, and industry; and attorneys and other consultants to GBA Member Firms.
Obtain more information about GBA at its website (www.geoprofessional.org) or by contacting the organization at info@gbageoprofessionalorg.kinsta.cloud or 301-565-2733.