Getting Paid: New GBA Publication Tells A/E/E Practitioners How To Do It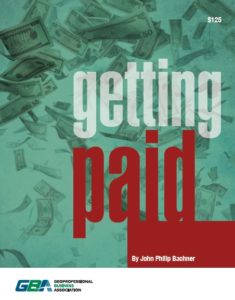 In an ideal world, design and environmental professionals' bills would all be paid within 30 days. Recognizing that we do not live in an ideal world, the Geoprofessional Business Association (GBA) has developed a brief but comprehensive guide to getting paid. Titled Getting Paid, the new, 19-page guide comprises 21 chapters, each focused on a specific technique to achieve prompt payment while avoiding some clients' efforts to avoid payment altogether, typically by filing a negligence claim.
According to GBA President Gordon M. Matheson, Ph.D., P.E., P.G. (Schnabel Engineering, Inc.),
"For many years efforts to collect a bill have been a principal trigger to negligence claims. For that reason, GBA has counseled consistently that it is better to write off a fee than it is to contest it with an unscrupulous client. A key preventive, discussed in the guide, is performing a thorough background check before accepting a new client, to help ensure the organization involved pays on time and doesn't resort to a claim as a discount mechanism. It's also why design and environmental professionals' contracts should include a dispute-resolution mechanism that makes litigation a last resort or not an alternative at all."
The author of the guide is John Philip Bachner, an independent consultant and long-time editor of GBA's newsletter, NewsLog, an every-other-week publication that's available free of charge. For many years, Bachner penned a NewsLog column titled "Getting Paid." Content of the new guide is based on those columns, with updates through April 2015.
Just a few of the new guide's chapter titles include:
Rely on Effective Billing and Payment Language in Your Contract,
Consider Carrots and Sticks,
Be Mindful of the Client's Payment Language,
Obtain a "Creditworthiness Guarantee,"
Use Lump-Sum Pricing More,
Post Bills to a Client-Accessible Extranet,
Use a Well-Designed Invoice,
Restrict Use of Deliverables,
Obtain Cash on Delivery, and
Require Collectors To Abide by the Ten Commandments of Effective Collectors.
Getting Paid is available to nonmembers at $125 per copy; members receive it as part of their membership. Order it from the GBA website.
Established in 1969, the Geoprofessional Business Association is widely regarded as geoprofessionals' best source of practice business guidance. GBA serves geotechnical engineers, environmental professionals, civil engineers in a variety of specialties, construction-materials engineering and testing professionals, and other geoprofessionals by giving them effective tools to help them achieve business success by confronting risk and optimizing performance. GBA creates those tools by promoting an environment of trust where members share their collective talent, energy, expertise, and experience to help one another succeed as firms and individuals.
All GBA Member Firms' technical activities are under the full-time control of an individual who is legally and/or ethically bound to hold paramount public health, safety, and welfare. GBA's associate membership comprises geoprofessional constructors; geoprofessional educators; geoprofessionals employed by government agencies, not-for-profit organizations, and industry; and attorneys and other consultants to GBA Member Firms.
Obtain more information about GBA at its website (www.geoprofessional.org) or by contacting the organization at info@gbageoprofessionalorg.kinsta.cloud or 301-565-2733.