In Passing – L. Edward Wilson, P.E.
GBA Past-President and Fellow, L. Edward Wilson, P.E. passed away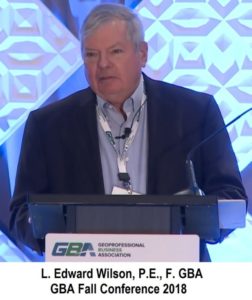 on August 30, 2020 after battling lung cancer.  He was a long-time contributor to GBA and to Terra Insurance Company.  His over 40-year career was half spent as a chief executive of nationally recognized engineering businesses and half spent as an advisor to former competitors, industry consolidators, and other businesses committed to growth and profitability.  He was a mentor to many and a friend to all.
Ed's Reflection on his GBA Presidency: HERE
He addressed GBA members during our 2018 Fall Conference when he shared "Uncomfortable Truths: Somebody Needs to Tell Folks What They Don't Want to Hear, and It Might as Well Be Me".  It was a powerful reminder of the basic tenets of a healthy and successful geoprofessional business from a straight talking, seasoned veteran.
During the 2019 Spring Conference, as we celebrated our 50th Anniversary, Ed was a panelist on the Living Timeline, Past Presidents Panel. With fellow panelists: Richard A. Millet, P.E., F.GBA (AECOM); Laura R. Reinbold, P.E., F.GBA (Terracon); and Gerald J. Salontai, P.E., F.GBA (Salontai Consulting Group, LLC); Ed shared the history of the Association and some of the most significant contributions GBA has made to our industry.  He was an ambassador of GBA for most of our 50 years.
Watch "GBA's Living Timeline: Past Presidents Panel":  HERE
When notifying friends, Ed's wife Mary Lou sent these words in true Ed Wilson terms: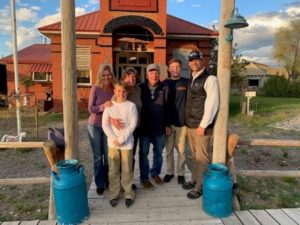 "Keep carrying the torch for professionalism, high standards, and service to others. Don't Let Up".
You can watch Ed's 2018 Fall Conference Presentation"Uncomfortable Truths: Somebody Needs to Tell Folks What They Don't Want to Hear, and It Might as Well Be Me":  HERE