It Was Golden! 2019 Spring Conference Highlights
Aloha! GBA held its 2019 Spring Conference at the Grand Wailea Resort, Wailea, Hawaii, April 4-6.  Participants and their guests totaled over 200, our largest recorded attendance for a conference.  We were joined by 19 first time attendees including a professor and  a student from the University of Hawaii.  The event marked the beginning of a year-long recognition of GBA's 50th Anniversary.  The conference theme of "Celebrating Our Foundation, Building Our Future" set an ideal framework for honoring our 50 years of service to geoprofessionals in our 50th State.
The conference began with a philanthropic event where almost 50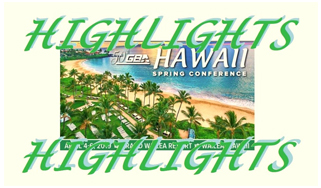 conference participants and guests demonstrated GBA's spirit of volunteerism in a cleanup of Po'olenalena Beach in association with the Surfrider Foundation.
GBA also made a significant donation to the Surfrider Foundation's
mission of dedication in the protection and enjoyment of the world's oceans, waves and beaches for all people, through conservation, activism, research and education. Energized GBA committee meetings followed our wonderful morning of giving back to the community.
Executive Director Joel Carson shared the appreciation letter GBA received from Governor David Ige of Hawaii, honoring our important work and welcoming the Association to the islands.
It was clear from the conference proceedings that GBA is running strong as we begin our next 50 years. President Woody Vogt reported  GBA has recorded its third straight year of budget surplus. This  provides  the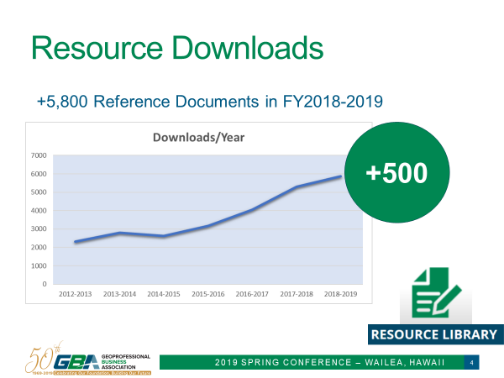 association the opportunity to prepare for the future by replenishing in our reserve fund. Our growing financial strength is underscored by the positive view our members have of the current  economy. An instant poll of the participants on the topic of business  climate described the overall feeling of members as "optimistic" and "busy," with 60 percent anticipating increases in revenue over the next year. Members expressed that their biggest 2019 challenge was the recruiting and retention of staff.
Our keynote speaker, author Stuart Homes Coleman, kicked off the presentations with the inspiring story of Eddie Aikau, a lifeguard and Hawaiian hero. Stuart compelled us to ask ourselves, "Who Am I, where am I going and what will I leave behind?" Questions just as important in a business context as they are to our personal journey. Eddie's legendary sacrifice and courage became a symbol of the Hawaiian Renaissance captured by the popular island mantra "Eddie Would Go."
Stuart's uplifting message set the perfect tone for a reflection on GBA's dedicated history of pushing ourselves in selfless service to others. Former GBA president Kurt Fraese (2013-14) presented a chronicle of GBA's 50 years in service to geoprofessionals; which also was the theme of a recently published article celebrating GBA's anniversary in GeoStrata magazine See Article.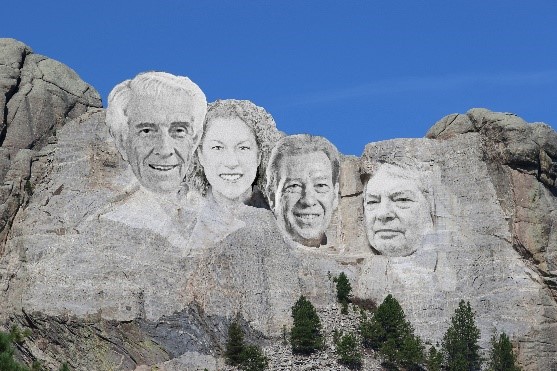 In a panel discussion, Past President's and GBA Fellows Laura Reinbold (2016-2017), Gerry Salontai (2004-2005), Rich Millet (1997-1998) and Ed Wilson (1989-1990) reflected on GBA leadership accomplishments and the way we get things done. Highlights included descriptions of the origin of limitation of liability, peer review and alternative dispute resolution. It was noted that all of these powerful tools were individual ideas that were brought to the organization and perfected by committees. GBA has a great tradition of honoring individual thought and making the best ideas actionable. We were reminded that no other professional association has as much collegiality as GBA because at our core we have demonstrated decades of trust and delivering value.
Speaking of historical journeys, Gary DeJidas, Chairman and CEO of GAI Consultants, shared with us his reflections on GAI's 30-year history of peer review engagement.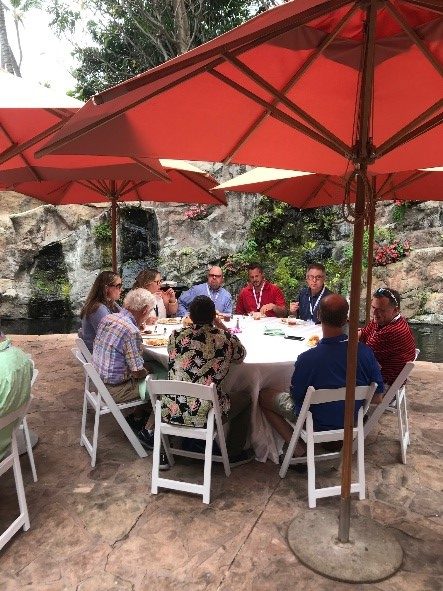 Peer review helped shape the course of success for GAI and can do the same for your firm. Gary also shared the benefits that he has derived from participating as a peer reviewer for other firms. If you are interested in having your firm peer reviewed or becoming a peer reviewer, contact Rich Johnson (rjohnson@bskassociates) Chairman of the Peer Review Committee.
Throughout the years, GBA members have not been afraid to share their most painful experiences with other members. The Spring Conference was no exception to this tradition. In a riveting presentation, "Hard Conversations: The Destructive Power of Conflict Avoidance and the Redemptive Power of Honesty" Aaron Mann and Michael Yost of Terracon, shared a story of an employee making extremely bad choices, facing the legal and client relationship jeopardy that ensued, and how due diligence and transparency in the aftermath limited the damage while preserving the firm's excellent reputation. Their message emphasized the need for ethics awareness efforts within firms that go beyond just training. A similar story of redemption was shared by Martin LaRoche of SNC Lavalin as he presented his company's harrowing journey from the red-ink depths of a 2012 corruption and collusion scandal, which led to the convictions and imprisonment of some executives, and how the firm returned to profitability. Martin explained that the company had a culture of silos when the trouble occurred and has emerged in the years since with new management and a centralized philosophy of "One Company." Ethics and compliance have become the number one priority company wide. A recent GBA peer review was credited with helping Martin and his colleagues take more actions to sustain recent success.
The "Quadruple Bottom Line" (the four Ps: People + Planet + Profit + Purpose) approach to business was introduced in another inspirational presentation by Stuart Coleman. We were told the story of Rell Sunn, a legendary female surfer from Hawaii who dedicated her life to protecting the environment and the well-being of her community while fighting a horrible disease. Stuart cited B-Corporations as one path to achieving the 4 Ps and reminded us that the word "wealth" had its origins in the term "well-being".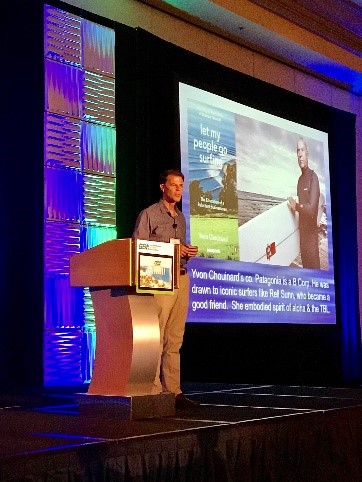 Who says geoprofessionals aren't funny? We were taught powerful communications techniques through the lessons of improvisational comedy by Nancy Watt, a Second City Conservatory Graduate. The session included audience participation in demonstrating that anyone can learn these techniques of effective communication and collaboration. It all starts with speaking and listening from a "Yes, and…" rather than a "Yes, but…" perspective. It also proved we have some real comedians among our members.
Executives of GBA member firms often choose our conferences to share their insights on best practices to help others navigating the tricky waters of business leadership. Day 2 of the conference featured two presentations from executives who in this manner "paid forward" their appreciation of the value GBA has delivered to them and their firms through the years. The serious business of leadership transition was told from a fresh perspective by Bill Hadge, who recently completed his term as President/CEO of GZA GeoEnvironmental, Inc. Bill explained that he set a fixed 6-year term limit for his time in the executive seat. Bill shared his perspective on the many benefits and a few challenges related to this decision. His presentation reflected the grace and dedication of a true servant leader; a leadership journey well lived for the benefit of his firm.
Guy Marcozzi, President of Duffield Associates, Inc. presented a detailed methodology for "being Nostradamus" (i.e. better predicting the future), at least in terms of economic cycles. Guy encouraged us to believe that we have more knowledge about the future than we think we do, particularly if we are willing to crunch the numbers and pay attention to leading internal and external economic indicators. Perfection isn't necessary or possible in predicting the future, but the presentation graphically pointed out the adage that when you're being chased by a lion, you only need to outrun the other person being chased. This true for economic downturns as well. Guy recommended "Prosperity in the Age of Decline" by Beaulieu for more insight on this topic.
The culmination of a tremendous three days was the keynote presentation of Eric Saperston highlighting what it takes to be extraordinary. Eric has spent 25 years talking with some of the most accomplished and powerful people in the world. He explained that he was motivated by the calling to "Live in Wonder." He encouraged us to tell hero stories, not victim stories and to practice the art of questioning to learn 3 things for deeper understanding, such as "What are 3 things that you would like to have told your younger self?" Eric's many uplifting messages in this presentation included that we don't stop playing because we get old, we get old because we stop playing. He also recalled the powerful lesson that he learned from former president Jimmy Carter, to never underestimate the power of the individual to make a difference in the world. Eric shared that what separates those who achieve and those who do not is in direct proportion to their ability to ask for help. We surmise that asking for help from the association is one reason GBA members have been so successful through the years. Eric's presentation was a fitting end to this conference of celebrating our foundation and building our future.
As always, the attendees enjoyed the networking and fellowship of spending time together. The evening receptions and dinners were outstanding. We can't wait to see everyone again later this year. We hope you are making plans to join us for the Fall Conference in Louisville, Kentucky where we will learn that "BIG DATA Means Big Opportunities."