Laura Reinbold, P.E. Is the New GBA President
Laura R. Reinbold, P.E. (Terracon)  is the new president of the Geoprofessional Business Association (GBA), a not-for-profit association of geoprofessional firms. Accepting office during ceremonies at GBA's annual meeting in Dallas, Texas, Ms. Reinbold is the 46th individual to serve as GBA's president and chair the group's board of directors.
Other directors who will serve during GBA's 2016-17 fiscal year are:
President-Elect Charles L. Head, P.E., P.G. (Sanborn, Head & Associates, Inc.);
Secretary/Treasurer Woodward L. Vogt, P.E., D.GE, F.ACI, F.ASCE, F.ASTM (Paradigm Consultants, Inc.);
Thomas W. "Tom" Blackburn, P.E., G.E., F.ASCE (Blackburn Consulting);
Arthur G. "Art" Hoffmann, P.E., D.GE (Gannett Fleming, Inc.);
Kenneth R. "Ken" Johnston (GZA GeoEnvironmental, Inc.);
Kimberly F. Morrison, P.E., R.G. (Morrison Geotechnical Solutions, Inc.); and
Alex Sy, Ph.D., P. Eng. (Klohn Crippen Berger, Ltd.)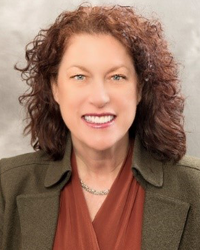 Laura Reinbold, P.E. is Director of Client Development for Terracon Consulting, Inc., which specializes in geotechnical and environmental engineering, facility assessment and asset management, construction monitoring, and materials testing.
Terracon has 150 offices nationwide. Laura has been in the engineering industry for more than 30 years, and has experience in operational management, project management, professional development and business development. In February 2016, Laura received the Nashville Business Journal's 2016 Women of Influence Trailblazer Award, and she is a 2016 nominee for the Nashville ATHENA Award, a recognition from the professional group Cable that honors women worldwide who inspire others to achieve excellence in their professional and personal lives.
In 2013, she was appointed by Tennessee Gov. Bill Haslam as the first female engineer or architect ever to serve on the State's Architects and Engineers Licensing Board. Laura received her Bachelor of Engineering degree in civil engineering from Vanderbilt University. She is a registered Professional Engineer in Tennessee and a LEED-accredited professional.