Leo Titus, Jr. Installed as President
Leo Titus, Jr., P.E. (ECS Group of Companies) is the new President of the Geoprofessional Business Association (GBA), a not-for-profit association of geoprofessional firms. Mr. Titus took office during ceremonies at GBA's annual meeting held on April 8, 2022, in San Diego, California.
Mr. Titus will serve as GBA's president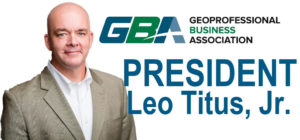 and chair the group's board of directors.
Other directors who will serve during GBA's 2022-2023 fiscal year are:
• President-Elect: Christopher Matthew "Matt" Moler, P.E. (S&ME.)
• Secretary/Treasurer: Guy Marcozzi, P.E., LEED AP BD+C, F. ASCE (Verdantas)
• Victor R. Donald, P.E. (Terracon)
• Martin LaRoche, P. Eng., M.Sc. (Kiewit)
• Bradley M. Melocik, P.E., P.H. (DOWL)
• Teresa L. Peterson, P.E., C.M.E., LEED AP O+M, ENV SP (Gannett Fleming, Inc.)
• Dan Schaefer, P.E. (Froehling & Robertson)
• Steve Wendland, P.E., R.G., D.GE (GeoEngineers, Inc.)
During GBA's 2022 Spring Conference, Mr. Titus thanked the Association Members for their confidence in his leadership and shared his plans to support GBA's 2024 Strategic Plan, elevate the committee experience for volunteers, and improve engagement of members.