New Case History: Innovation Saves School District Time and Money
GBA Geotechnical Business Committee
GBA has a long history of sharing the painful and expensive lessons its Member Firms have learned through its popular GBA Case History series. Member Firms can also learn from one another on projects that turned out successfully.
In this Case History, a school district hired a non-GBA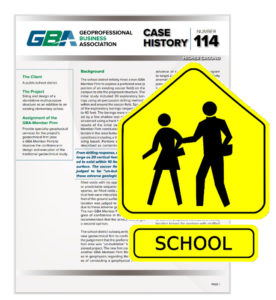 Member Firm to assess subsurface conditions at the proposed location for a new campus structure. Initial exploratory borings suggested the area contained adverse geologic conditions consisting of shallow basalt bedrock containing large voids. The preferred location for the structure was judged to be "un-buildable." The school district hired a GBA-Member Firm for a second opinion. The Member Firm suggested a new approach and teamed with another GBA Member that specializes in geophysics.
In the end, the stakeholders were delighted that the new team of GBA-Member Firm was able to refute the original findings using innovative methods. As a result, the construction at preferred location for the structure proceeded with confidence.
GBA case histories give all GBA-Member Firms an opportunity to conduct lunch-and-learn sessions, where participants– especially less experienced personnel–read the cases, then discuss what went wrong or right, and how to deal with similar issues in the future.
Case Histories are FREE for all GBA Members
Download Case History #114: HERE