new GBA Business Brief: Financial-Performance-Survey Report

New GBA Business Brief:  Financial-Performance-Survey Report               
For more than 15 years, GBA has been collecting key financial metrics from member-firms so our members can measure their success and improve business performance and optimize efficiency.  The newest GBA Business Brief — available only to members and free of charge – comprises the GBA Business Practices Committee's 2016-17 Financial-Performance Survey report, covering key financial-performance issues surveyed firms reported :
predistribution profit,
discretionary-profit distribution,
net multiplier,
utilization rate,
predistribution overhead,
marketing costs,
group insurance,
collections, and
fee backlog.
Using some of the data collected from past surveys, we enhanced this year's report with trend lines so our members can similarly track their progress on key financial indicators.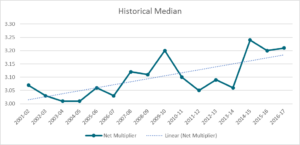 Thank you to all the firms that participated in the survey.  We had more responses to this survey than we have had in the past.  A special thanks to Lee James (Lee James & Associates),Matt Moler, P.E. (S&ME) and Phil Pettway, (GBA) for collaborating on the survey and for their efforts on compilation of the results.
Download GBA Business Brief: Financial-Performance Survey 2016-17 Report HERE
Learn how to compute these data for your own firm by watching Lee James webinar, "Benchmarking Your Firm's Financial Performance (and How to Complete GBA's Financial Performance Survey)."