NEW! GBA BUSINESS BRIEF – Fiscal Year 2020-2021 Financial-Performance-Survey Report
We are coming out of the most disruptive business cycle in recent history due to the COVID-19 pandemic but most of our members report record financial performance.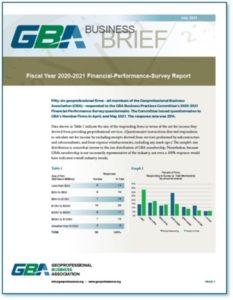 How does your firm stack up?
For more than 15 years, GBA has been collecting key financial metrics from member-firms so our members can measure their success, improve business performance, and optimize efficiency. The newest GBA Business Brief — available only to members is free for all members and compiles data from GBA Business Practices Committee's 2020-2021 Financial-Performance Survey, in a short report, covering key financial-performance issues of surveyed firms.
This report includes more data and trendlines so our members can track their progress on key financial indicators for companies that match your firm's size.
In the spirit of our Association, GBA publications are a collaborative effort of GBA Member-Firms. They are provided to GBA   Members to make them stronger, smarter and more successful

and they are FREE to all members.
Download Business Brief: FY 2020-2021 Financial-Performance-Survey Report