New for Members: Troutman Sanders Legal Guide to Doing Business in China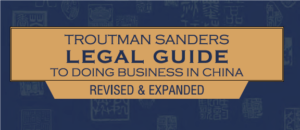 Troutman Sanders has released the fourth edition of their popular eBook "Legal Guide to Doing Business in China." The guide is an overview of the legal framework for making foreign investments in China and some of the complexities that may arise during the course of business.
China attracts investments from a broad spectrum of industries, and the last two decades have seen unprecedented economic growth. An understanding of China's leadership system and corporate framework is critical to the success of any foreign investment. "China can be seductive to both newcomers and frequent visitors," says Edward J. Epstein, managing partner of Troutman Sanders in Shanghai. "It is easy to lose your bearings in China's radically different culture and when this happens … to lose your money as well. Therefore, it is important to have some touch points to keep yourself on track."
This guide covers a broad range of topics including an overview of the Chinese government, market entry, capital structure and financing, labor, real estate, dispute resolution, and even helpful tips on culture, like how to conduct yourself during a business meeting. In addition, this fourth edition has been expanded to include sections on intellectual property and the free trade zones and revised to incorporate new legal developments in other areas since 2014.
At first glance, the way business is conducted in China might appear similar to their Western counterparts, causing foreign visitors to create an illusionary comfort zone and, essentially, let their guard down. It is important to have experienced advisors on your team that can counsel you throughout your investment. This guide will serve as an additional tool in understanding an increasingly sophisticated legal and regulatory system.
With offices in Beijing, Hong Kong, and Shanghai, Troutman Sanders assists clients with both their domestic and international goals, and have graciously made this valuable resource available to all GBA members.
The Troutman Sanders "Legal Guide to Doing Business in China" can be downloaded in the following formats: