President-Elect Charles Head Addresses Winter Leadership Conference Emphasizes the Future is Bright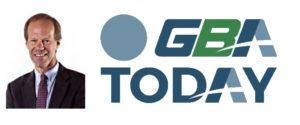 President-Elect Charles Head Addresses Winter Leadership Conference Emphasizes the Future is Bright
GBA President-Elect Charles L. Head, P.E., P.G. (Sanborn, Head & Associates, Inc.) addressed attendees of GBA's 2017 Winter Leadership Conference, held on January 28, 2017 in Denver, Colorado.
LEADERS RECOGNIZED
Mr. Head recognized the GBA Board of Directors and staff attending the conference.  He also identified the Committee/Council Chairs attending the Winter Leadership Conference and applauded them for their continued contributions and leadership.  He recognized:
Business Practices Committee – Matt Moler, P.E. (S&ME, Inc.)
CoMET Business Council – Saad M. Hineidi, P.E.(Terracon)
Council of Fellows – Jerrold Samford, P.G., F.GBA (Troutman Sanders, LLP)
Emerging Issues and Trends Committee – Bradley M. Melocik, P.E., P.H.(DOWL)
Environmental Business Council – Michael E. Covert. P.G. (Terracon)
External Relations Committee – Travis Wambeke, P.E. (Strata, Inc.)
Geotechnical Business Council – Richard D. Heckel, P.E., D.GE. (Ardent Geotechnical Consultants LLC)
Legal Affairs Committee, – Ji Shin, Esq. (Earth Systems, Inc.)
New Leaders Committee – Jessica Klein, P.E. (DOWL)
Peer Review Committee – Richard E. Johnson, P.G., C.E.G., C.H.G. (BSK Associates)
After welcoming the group and thanking them for their leadership and support of GBA, Mr. Head shared his personal introduction to GBA from many years ago.  He then reminded attendees of GBA's rich legacy, including its critical role in elevating the stature of the geoprofession over its 48-year history.   Acknowledging the evolution of GBA and particularly the number of changes in the past several years, he noted that "we are looking forward now," and added "I believe this is an organization with a really bright future, and I'm excited to be a part of it."
LOOKING FORWARD
Among the many important things Mr. Head pointed to looking forward into 2017 are; continued enhancements to spring and fall programming that will bring even more value to member-firms, continued outreach activities by GBA's Executive Director to engage directly with current and prospective member firms, new publications that will support GBA's mission, and development of a new three-year strategic plan.  "The new strategic plan 'GBA 2020' will be our opportunity to set the right tone and direction for GBA, and we're going to work hard to get it right" he said.   With that, he asked WLC attendees to help "make GBA the best we possibly can," under the theme of "gaining momentum to a bright future" in support of GBA's consistent commitment to its members, to help them and their clients confront risk and optimize performance.
Mr. Head will become the 48th President of GBA during the 2017 Spring Conference to be held in Washington D.C. April 6-8, 2017.