Profits Push Higher for GBA Members: GBA's Annual Financial-Performance-Survey Results Published
GBA Business Practices Committee
Backlog trends exceed record highs, and some overhead costs are declining as the trend for GBA firms to be more profitable continues. GBA's Fiscal Year 2021-2022 Annual Financial-Performance Report shows health and identifies areas of concern as we enter an inflationary cycle.
Get on top of your game. In addition to building your reserves, areas to watch are decreasing utilization and increasing DSO. Although backlog is soaring, be concerned about the significantly reduced investment in marketing costs. Lay the groundwork now for potentially tougher times ahead.
How does your firm stack up?
For more than 15 years, GBA has been collecting key financial metrics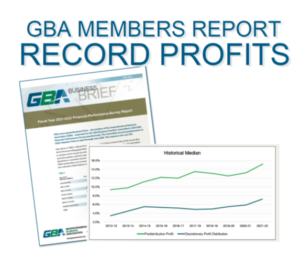 from member-firms so our members can measure their success, improve business performance, and optimize efficiency. The newest GBA Business Brief — available only to members – compiles data from GBA Business Practices Committee's 2021-2022 Financial-Performance Survey, in a short report, covering key financial-performance issues of surveyed firms.
This report includes more data and trendlines so our members can track their progress on key financial indicators for companies that match your firm's size.
In the spirit of our Association, GBA publications are a collaborative effort of GBA Member-Firms. They are provided to GBA Members to make them stronger, smarter and more successful and they are FREE to all members.
Download: HERE