PROJECT FINANCIALS MANAGEMENT SEMINAR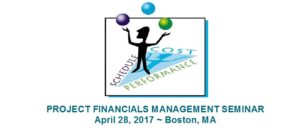 One-Day Seminar in the Boston Area
April 28, 2017 ~ Boston, MA
The Geoprofessional Business Association (GBA) and Lee James & Associates have teamed up to present a one-day seminar titled: Project Financials Management to be taught on April 28, 2017 in Boston, MA.
This training program will arm participants with skills to assess and win work, improve pricing, communicate with client and peers, positively start projects, track and report project progress, timely bill and collect, complete changes while building relationships with clients and successfully manage all size projects.
Numerous real-life experiences and case studies are used to teach and bring to light the principles taught.  Sessions are highly interactive with active learning occurring throughout.
This is a "must-attend" to improve project financials management.
Registration closes April 20, 2017
CLICK HERE FOR MORE INFORMATION
CLICK HERE FOR THE SCHEDULE