Spring Education Series Available On-Demand
Those that attended GBA's 2020 Spring Education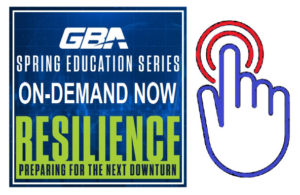 webinar series agreed that the presentations were educational, entertaining, and inspiring. Now you can watch, listen to, and learn from these speakers too, on your own schedule.
Presentations included:
The Return of the Economist: The Impact of an Unprecedented COVID-19 Supply Shock
Anirban Basu, MPP, MA, JD – (Sage Policy Group, Inc.)
Planning, Preparing and Executing for the Looming Recession
Lee James, CPA, CBI, CMC®, F.GBA (Lee James & Associates)
Negotiate It! How to Crush Your Fears, Develop Your Negotiation Muscle,
and Gain Power in the Workplace
Lynn Price, J.D. (Lynn Price Consulting)
Recession Tune-up (Overhaul)
Guy Marcozzi, P.E., LEED AP BD+C, F.ASCE (Duffield Associates, Inc.)
Gripped by COVID-19 – An Economic and Geopolitical Outlook
Past the Media Headlines
Bernard Baumohl (The Economic Outlook Group)
As added value to all members, GBA recorded the 2020 Spring Education Series and made them available to all through our on-demand platform. These videos make great lunch-and-learns for professional development of small groups or your entire staff.
Watch On-Demand: HERE