Updated! Best Practices: Change Order Management
GBA Business Practices Committee
Do you charge for changes?
Many geoprofessionals struggle when changing conditions or project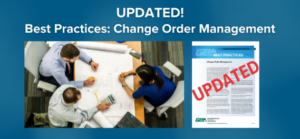 scopes result in change orders, finding it difficult to submit legitimate payment requests for legitimate services to their clients. Effective communication with your client can make or break the client-consultant relationship and affect future profitability.
This document will help you learn how to effectively communicate project changes, considering elements like timing and who and what to include in change documentation, with an understanding that different clients respond differently to change orders.
The benefits of effective change order management include:
• Enhanced service quality
• Stronger client relationships
• Fewer surprises
• Appropriate profit
• Better communication
• Improved company morale, and
• A better future.
Don't miss out on a chance to improve your business through better management of change orders, including the exponential potential of turning a new client into a decades-old relationship/partner.
DOWNLOAD UPDATED BEST PRACTICES: CHANGE ORDER MANAGEMENT
The GBA Best Practices series of documents, available to members only, provides guidance on geoprofessional business-practice issues. As indicated by the name, Best Practices is a combination of great ideas and proven actions our members have gathered through collaboration into one document.
GBA Best Practices documents are free for all members.