Updated! Best Practices: Establishing an Internship Program in Your Firm
GBA Business Practices Committee
Attracting top-flight, entry level talent remains a key objective of most GBA Member Firms. An effective internship program can play an important role in achieving that objective. GBA's Business Practices Committee has updated these guidelines to help firms develop an internship program "from scratch" and improve those that already exist.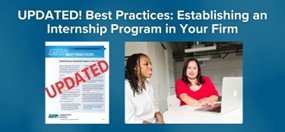 This comprehensive document provides resources including:
• Sample intern orientation checklist
• Intern recruitment ideas
• Suggested assignments for a 12-week program
• Sample student internship program agreement form
This is the updated version of a previously published Practice Alert.
The GBA Best Practices series of documents, available to members only, provides guidance on geoprofessional business-practice issues. As indicated by the name, Best Practices is a combination of great ideas and proven actions our members have gathered through collaboration into one document.
GBA Best Practices documents are free for all members.
DOWNLOAD UPDATED BEST PRACTICES: ESTABLISHING AN INTERNSHIP PROGRAM IN YOUR FIRM