Updated! Message to Civil and Structural Engineers: Project Quality Assurance
Legal Affairs Committee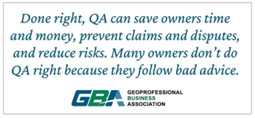 GBA has released an updated document designed to provide guidance to civil and structural engineers on how   to communicate the value of qualified CoMET consultants to owners. When owners don't do quality  assurance right, a project's civil and structural engineers may face just as much risk as the  owner and project geoprofessionals. GBA encourages project design professionals to explore this message with information they can pass on to owners to help all parties lower their risks.
This updated guidance helps geoprofessionals display and elevate their value as part of the project team by: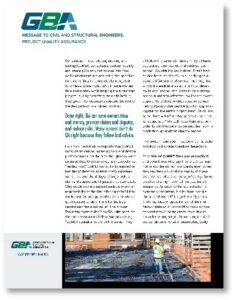 • dispelling myths and confronting dangerous misconceptions about CoMET consultants and their services and fees,
• laying out how CoMET consultants can serve actively on projects from beginning to end (and why it's beneficial for them to do so), and
• explaining how to avoid significant risks on a project.
Civil and structural engineers should encourage owners to rely on CoMET professionals to help manage project risks.