Vogt, Hoffmann, Johnston Lead GBA's 2018-19 Board of Directors Slate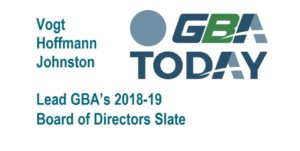 GBA's Nominating Committee has announced its slate of officers and directors for the May 1, 2018-April 30, 2019 fiscal year.
GBA President-Elect Woodward L. "Woody" Vogt, P.E., D.GE, F.ACI, F.ASCE, F.ASTM (Paradigm Consultants, Inc.) will become President and Chair of the GBA Board of Directors.
Those nominated for the other two officer positions are, for President-Elect and Board Chair-Elect, Arthur G. "Art" Hoffmann, P.E., D.GE (Gannett Fleming, Inc.) and, Kenneth R. "Ken" Johnston (GZA GeoEnvironmental, Inc.) for Secretary-Treasurer.
Those nominated to serve as Directors-at-Large are: Saiid Behboodi, P.E., P.G. (PBS Engineering and Environmental); Thomas W. "Tom" Blackburn, P.E., G.E., F.ASCE (Blackburn Consulting);  Chuck A. Gregory, P.E. (Terracon); Christopher Matthew "Matt" Moler, P.E. (S&ME, Inc.); and Leo Titus, Jr., P.E.(ECS, Ltd.)
GBA's Current Board of Directors