Woodward L. Vogt, P.E., D.GE, F.ACI, F. ASCE, F.ASTM IS NEW GBA PRESIDENT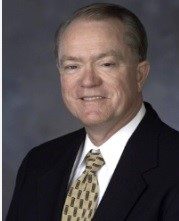 Woodward L. "Woody" Vogt, P.E., D.GE, F.ACI, F. ASCE, F.ASTM (Paradigm Consultants, Inc.)  is the new president of the Geoprofessional Business Association (GBA), a not-for-profit association of geoprofessional firms. Accepting office during ceremonies at GBA's annual meeting in Chicago, Illinois,  Mr. Vogt is the 48th individual to serve as GBA's president and chair the group's board of directors. Other directors who will serve during GBA's 2018-19 fiscal year are:
President-Elect Arthur G. "Art" Hoffmann, P.E., D.GE. (Gannett Fleming, Inc);
Secretary/Treasurer Kenneth R. "Ken" Johnston (GZA GeoEnvironmental, Inc.)
Saiid Behboodi, P.E., G.E (PBS Engineering + Environmental)
Thomas W. "Tom" Blackburn, P.E., G.E., F.ASCE (Blackburn Consulting)
Chuck A. Gregory, P.E. (Terracon)
Christopher Matthew "Matt" Moler, P.E. (S&ME, Inc.)
Leo Titus, Jr., P.E. (ECS, Ltd.)
Mr. Vogt is president of Paradigm Consultants, Inc. in Houston. He has more than 45 years' experience providing geotechnical, construction materials, investigative and forensic engineering services. Mr. Vogt is a Diplomate of Academy of Geo-Professionals and a fellow of the American Society of Civil Engineers, ACI International, and ASTM International. He participates in committee activities of ACI International and ASTM . Before joining the GBA Board of Directors, Mr. Vogt was a founding member of the GBA Construction Materials Engineering and Testing (CoMET) Committee and chaired the GBA Accreditation and Certification Task Force. He serves on the board of directors of the International Council for Certification of Construction Inspectors and is past board chair of the American Association for Laboratory Accreditation. He is past president of TCEL/Geoprofessionals Serving Texas and the Houston Chapter of TCEL. Mr. Vogt received his Bachelor of Science and Master of Science degrees from the Georgia Institute of Technology ("Georgia Tech") and is a licensed professional engineer in Texas and Louisiana.