THE FUTURE IS BRIGHT – GBA President Woody Vogt Introduces the 2020 Strategic Plan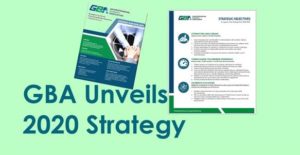 Pablo Picasso was quoted as saying "Our goals can only be reached through a vehicle of a plan, in which we must fervently believe, and upon which we must vigorously act.  There is no other route to success."  This is true with your companies and with our association of Member Firms.
During GBA's 2018 Spring Conference, newly elected President, Woody Vogt P.E., D.GE, F.ASCE, F.ACI, F.ASTM ( Paradigm Consultants, Inc.) introduced GBA's  2020 Strategic Plan and the goals of the plan to the conference attendees.  He emphasized GBA's purpose, vision and value proposition have not changed but our approach to achieving them in the next few years has.  We are in a dynamic business environment and our member firms strive to meet the demands of the market and their clients, GBA must also change to remain relevant.
He shared the goals of the 2020 strategy and provided detail on how each are important to GBA as the preferred source of business-educational resources, specifically risk management and business performance optimization, for geoprofessional firms.  They are:
STRENGTHEN GBA'S BRAND – Sharpen our focus to deliver on the Value Proposition.
 TURBOCHARGE THE MEMBER EXPERIENCE – Develop a unique "member experience" to further drive value and connection.
CELEBRATE SUCCESSES– Highlight the accomplishments of members that promote our values, purpose and strategy while elevating our profession and contributing to our overall success.
Mr. Vogt's introduction to the 2020 Strategic Plan emphasized that our continued collaboration on the elements outlined will ultimately help members and their clients confront risk and optimize business performance by delivering unique professional resources, programs, and services that make them stronger, smarter and more successful.